Travelmyne Featureprint
Strong colour is better / Click icon for legend
Kangaroo Island - A Great Natural Adventure
Holidays on Kangaroo Island are most of all a natural adventure. Sea lion colonies, penguin parades, bizarre granite rocks, unique caves, rugged cliffs, colourful coral reefs and giant sand dunes invite travellers to expeditions and extraordinary leisure activities.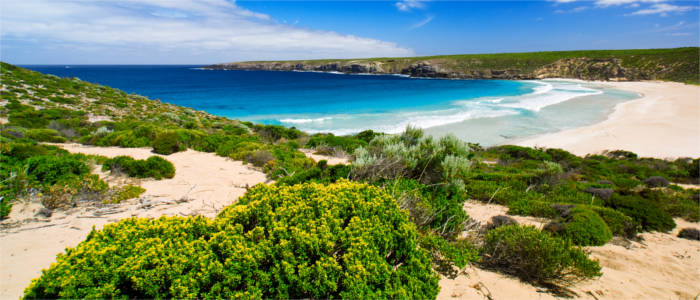 Geography - Australia's third biggest island
Kangaroo Island is an island in the south of the state of South Australia in the Gulf St Vincent. With an area of 4,405 km², it is Australia's third largest island. Its shoreline is 509 kilometres long and the highest peak, Prospect Hill, is 307 metres over sea level and is located at the island's north coast. Altogether Kangaroo Island is 145 kilometres long and no more than 57 kilometres wide. The climate on the island creates mild, humid winters and warm, dry summers.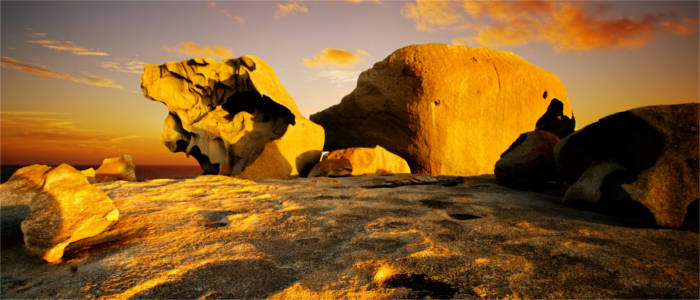 Nature - A wonderful fauna

Kangaroo Island is a natural paradise. White sandy beaches, rugged coastal areas, great sand dunes, bizarre rock formations, underground caves, idyllic bays and thick forests create a unique scenery. Their nativeness is maintained by numerous nature reserves. Altogether over a third of the island are part of national parks. One of the best-known ones is the Sealbay Conservation Park. Its large sea lion colony, which can be watched at close range, is a must for every visitor. Other members of the island's impressive fauna are kangaroos, wallabies, seals, over 200 bird species, koalas, platypus, anteaters and little penguins. You can see the latter walking towards their nesting places at night at the coast of Kingscote and Penneshaw. Another natural attraction on Kangaroo Island is the Flinders Chase National Park with the rock formation of the Remarkable Rocks and Admirals Arch as well as the Little Sahara Desert, a giant sand dune area at the island's south coast.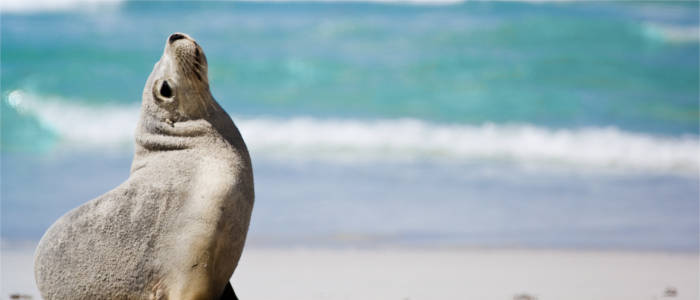 Culture - Historical lighthouses and deserted shipwrecks
Aborigines already lived on Kangaroo Island over 16,000 years ago. This is demonstrated by archaeological finds such as stone tools. Out of unknown reasons, however, the native inhabitants disappeared around 200 BC. The next people to set foot on the island in South Australia were European settlers in the 19th century. The navigator Matthew Flinders, who was sent by the British government to explore Australia's south coast, discovered the island in 1802 and gave it its name. On the 27th of July in 1836, the Duke of York founded the first settlement of South Australia at Reeves Point in Kingscote. Kingscote is the largest town on the island now. Its Hope Cottage Folk Museum and historical monuments such as the post office building and the cemetery inform travellers about the beginnings of the history of European settlement. Other interesting sights for history enthusiasts are the historical lighthouses at Cape Willoughby, Cape Borda and Cape du Couedic as well as the shipwrecks in the surrounding waters.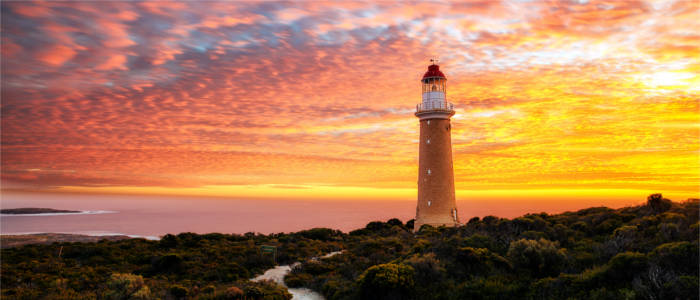 Experience - Oysters and Ligurian honey
Kingcote offers several pubs, bars, shopping facilities, restaurants and cafes. The restaurants and small shops as well as the Kangaroo Island Farmers Market in Penneshaw sell regional products such as fish and seafood, oysters, olive oil, wine, sheep's cheese and Ligurian honey. The latter has been an island speciality since the 19th century and fascinates with its unique aroma of eucalyptus and sea salt. European settlers brought the Ligurian bee, which has gone extinct in Europe, to Kangaroo Island, where August Fiebig from Pennshaw started breeding it in 1880. Five years later, import prohibitions were imposed to preserve the Italian bee species. The region's honey farms open their doors to visitors who want to learn about the history and production of the sweet and sticky delicacy. The island's numerous wine-growing estates offer tours as well. Other extraordinary experiences are the penguin parade in Penneshaw, the seal gathering at Sealbay and an overnight stay in one of the historical lighthouse keeper's houses.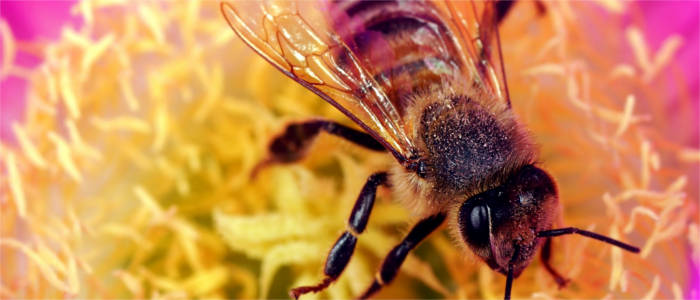 Activities - Hiking, diving and sandboarding
Kangaroo Island offers a variety of leisure activities. Water sports fans and hikers definitely get their money's worth on holiday on Australia's third largest island. Popular activities in and on the water are swimming, fishing, surfing, sailing and canoeing. Diving in the waters around the island is equally enjoyable. Colourful corals, a great number of fish and many shipwrecks make a dive in this area a unique adventure. Travellers who prefer being active on shore can visit the nature reserves and national parks, which are equipped with countless trails, on which you can discover Kangaroo Island's nativeness on foot or by bike. In addition, penguin-, bird-, sea lion-, whale-watching and cave tours give you the opportunity to explore the island's nature. Another way of experience Kangaroo Islands' landscape is a walk in the Little Sahara Desert. The giant sand dune is not only suited for walks and hikes but also for going sandboarding. You can rent boards for this extraordinary surfing adventure on site.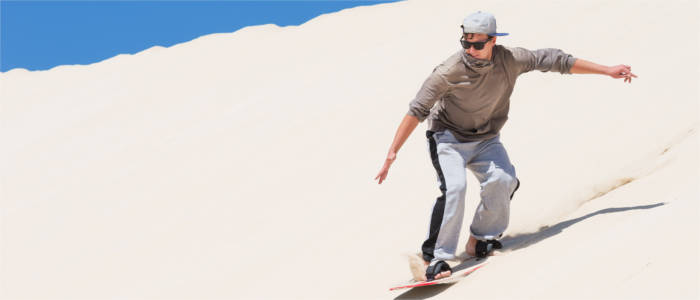 Information
Kangaroo Island can best be reached by ferry or plane from Adelaide. The national airport on the island is about 14 kilometres away from Kingscote. The main tourist season are the spring and summer months (September to February). However, winter (June to August) and autumn (March to May) also have their appeal and temperatures are rarely below 10 °C.
Due to its unique fauna and natural beauty, Kangaroo Island is often referred to as "Australia's Galapagos". Lovers of nature can marvel at the island's animals in their natural habitat and experience the untouched nature of the fifth continent at first hand while doing one of the many leisure activities.