Travelmyne Featureprint
Strong colour is better / Click icon for legend
Kefalonia - Lush Nature and Idyllic Beaches
Kefalonia belongs to the Ionian Islands but it is unique in its own way. Scenic villages, wonderful beaches and bays, breathtaking caves as well as distinct nature will make your holiday a memorable experience. The island is the ideal destination for families and lovers of nature.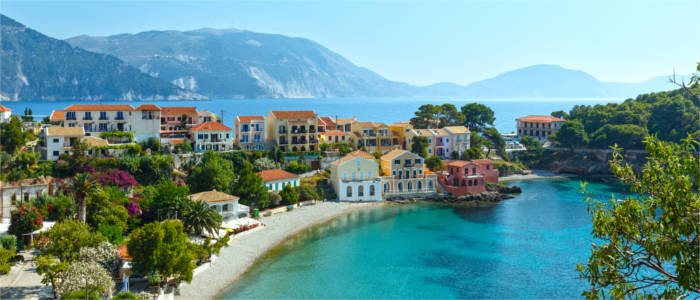 Geography - The greatest of the Ionian Islands

Kefalonia (also called "Kefallinia") is the greatest of the Ionian Islands and lies west of the Greek mainland. The island's area has not been clearly determined as numbers fluctuate between 688.4 km² and 788.3 km². The island's population is about 41,000 people. Kefalonia is mostly mountainous and its highest peak is Mount Ainos with a height of 1,627 metres. The most important town and the capital of the island is Argostoli. Other significant places are Lixouri, Fiskardo, Karavados, Lassi, Sami and Skala. The climate on Kefalonia is Mediterranean with hot summers and mild winters. The average yearly temperature is about 19 °C.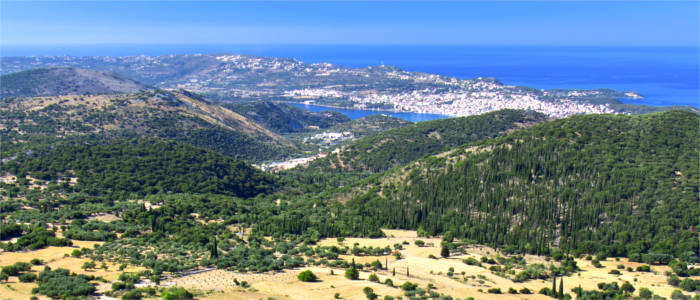 Nature - The play of colours of Melissani Cave

The largest Ionian island is characterised by an impressive flora and fauna and is a real paradise for lovers of nature. It is very green and filled with the fragrance of Mediterranean herbs. You find a special fir species here which exists in no other place on earth. This species mainly grows on Mount Ainos, whose hillsides are populated by wild horses, hares and goats. In addition, Kefalonia is vegetated by several beautiful orchids such as Ophrys cephalonica, Orchis quadripunctata (four-spotted Orchis), Ophrys ferrum-equinium (Horseshoe Bee-orchid) and Ophrys gottfriediana. The sea around the island is considered one of the clearest waters in the Mediterranean. It is populated by dolphins, loggerhead sea turtles and monk seals. Along the coast you see numerous bays as well as endless pebble and sandy beaches. One of the most frequently photographed Greek beaches is Myrtos Beach on Kefalonia. Other impressive beaches are Karavomilos, Assos, Spartia, Lourda and Platia Ammos Beach. A special highlight are the island's caves. The Melissani Caves fascinate with their underground lake and a magical play of colours, which is created by its light-flooded ceiling. The popular Drogarati Cave, on the other hand, is equipped with impressive stalactites.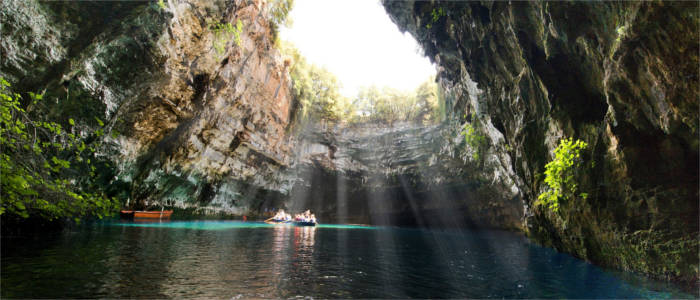 Culture - Impressive churches and monasteries

Already mentioned in Homer's Odyssey and Ilias, Kefalonia has been famous for a long time. In these works, the island was called "Deucalion". Where its present name comes from, could not be determined. Kefalonia is characterised by a chequered history with occupations by the Romans, French, Venetians, Turks, British and, later on, by the Italians and Germans. In 1953, a heavy earthquake almost completely destroyed the island. Only the village of Fiskardo in the north of the island survived the earthquake, so that it is one of the few places which has older architecture today. Besides numerous monasteries and churches from different eras, there are many other cultural sights. Examples are the Monastery of Agios Gerasimos, the Venetian St George's Castle, the Odysseus' tomb, Assos Castle, the Roman villa in Skala with the impressive mosaic floor as well as the Agio Theodoros lighthouse. When you are in the capital of Argostoli, you should visit the Archaeological Museum and the Korgialenio History and Folklore Museum. In Fiskardo, travellers find a Nautical and Environmental Museum. Bibliophiles also get their money's worth on Kefalonia. The Lakovateis Library and the Korjialenios Library are highly recommended.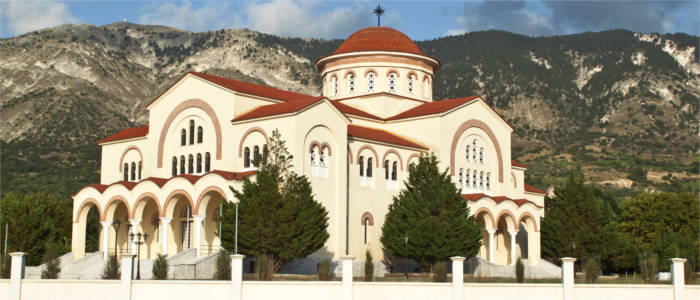 Experience - Eating like in Italy

Due to the many occupations, Kefalonia's cuisine has been shaped by various influences. The most prominent one is the Venetian influence, which is even greater than the Greek one. However, there are several typical island specialities such as stockfish (dried fish), pligouri (fish stew) and riganada (a kind of seasoned rusk). Other dishes are the meat pie kreatopita and sofrito (an aromatic relish). Orgeat syrup is particularly delicious. It tastes of almonds and is often refined with orange flower water or rose water. Although Kefalonia is not a typical party island, it has a varied nightlife, which is centred around Argostoli. You find most clubs and bars here. Other popular locations for night-time entertainment are Lixouri, Poros, Fiskardo, Skala and Sami. Kefalonia is not a typical shopping destination either but travellers find small shops which sell souvenirs and jewellery everywhere. The most popular souvenirs are orgeat syrup, Kefalonian honey as well as the wines Robola and Calliga. Kefalonia is an idyllic and lively island which captivates its visitors and makes sure they want to return. Scenic villages like Assos, Fiskardo and Efimia and a visit to the breathtaking Drogarati Cave make holidays on the island a worthwhile experience.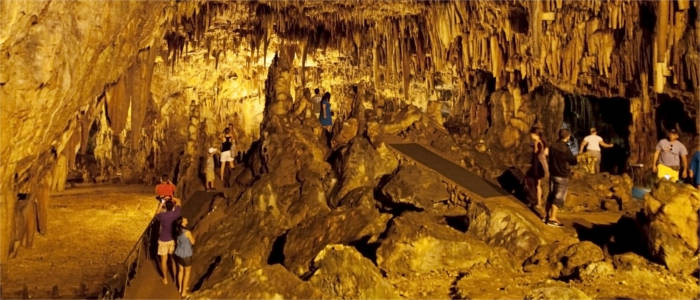 Activities - A hiking paradise with magical beaches

Hikers will love Kefalonia because it offers a lot to explore and discover. Travellers who prefer doing water sports can spend their holidays at the beach. While you can do equestrian sports in Skala, there is a go-kart track as well as a mini car and motorcycle track for children in Argostoli. In Ag Efimia, you find a diving school. There is generally a variety of activities for holidaymakers on Kefalonia. The island is excellently suited for going climbing, canyoning, sailing, paragliding, canoeing and kayaking, for example. The many beaches are the perfect location for relaxed family holidays at the seaside.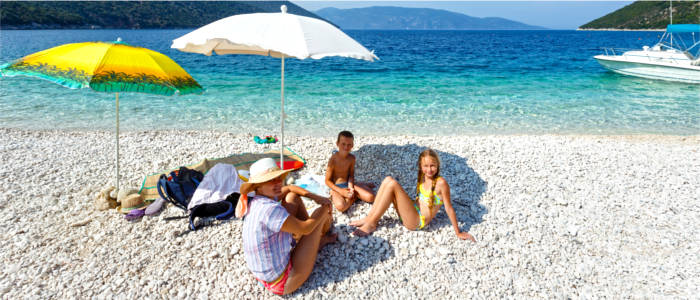 Information
Kefalonia can best be reached via the island's airport a few kilometres outside of Argostoli. There are daily ferry connections from Argostoli, Samos or Poros to the other Ionian Islands and the Greek mainland (Patras, Igoumenitsa and Kyllini). In addition, you can take the ferry to Italy during the sumer season. The best time for travelling Kefalonia is between April and September but the island may be heavily frequented by the Greeks in August.
The Ionian island of Kefalonia is excellently suited for lovers of nature and hikers. However, culture enthusiasts and families can also have relaxing or eventful holidays here. The island caters for all tastes.