Travelmyne Featureprint
Strong colour is better / Click icon for legend
Thasos - Marble Beaches and  Fantastic Hiking Trails
Travellers who like nature will love Thasos. The island is the ideal destination for visitors who are looking for beautiful beaches, which make them unwind and forget their stressful everyday life with their turquoise water. Culture and nature as well as tranquillity and adventure are in harmony here, which make holidays on Thasos an extraordinary experience.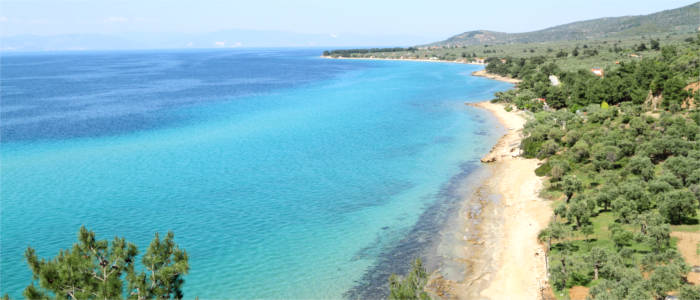 Geography - The northernmost populated island in the Aegean

Thasos, also spelled "Thassos", is a Greek island in the Thracian Sea. Geographically speaking, it belongs to the region of the North Aegean but regarding politics, it is part of the region of East Macedonia and Thrace. Thasos has an area of 380 km² and about 16,000 inhabitants. It is the northernmost populated island in the Aegean Sea and is only about seven kilometres away from the Greek mainland. Its capital and greatest harbour is the coastal town of Limenas. Thasos is surrounded by small islands, which are uninhabited. The island itself is of volcanic origin and very mountainous. Its highest peak is Ypsario with a height of about 1,206 metres. Thasos is famous for its white marble, which is mined here and shipped into the whole world. The climate is continental in the heartland and rather Mediterranean at the coast. While the winters are relatively cold and rainy, summer and springs are very warm and low in precipitation.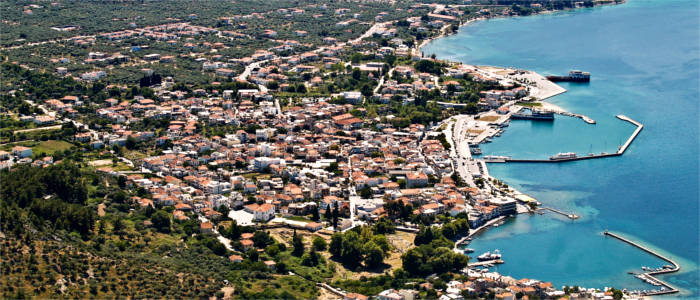 Nature - An incredibly diverse flora and fauna

"Green" is the word which comes to mind first when travellers think of Thasos. The mountains accommodate numerous springs, which provide the whole flora with water and fill an artificial lake near the village of Maries. Although the vegetation is still very rich, the forest fires, which occurred in the last years, depleted the forests on Thasos. Today, you see oriental hornbeams, olives, arbutus, Judas trees, evergreen roses, Phillyrea angustifolia and bay laurel. Furthermore, Thasos is vegetated by Turkish pines, hop hornbeams, holly oaks, large-leaved linden and downy oaks. Along the coast, holidaymakers find many wonderful bathing beaches as well as several small hidden bays. Examples of beautiful beaches are Metalleia, Psili Ammos, Limenaria, Saliara Marble Beach and Pachis Beach, to name but a few. There are many more, which make the decision for a particular beach difficult because almost all beaches have marble sand or pebble and crystal clear turquoise water. In Giola, travellers find a natural pool in the middle of a wall of rock, which is up to 8 metres high. The island's fauna is rich too. There are many species of birds (e.g. typical warblers, whooper swans, mistle thrushes and bee-eaters), reptiles (e.g. Caspian whipsnakes, Hermann's tortoises, European blind snakes and European green lizards) and amphibians (e.g. marsh frogs, green toads and European tree frogs).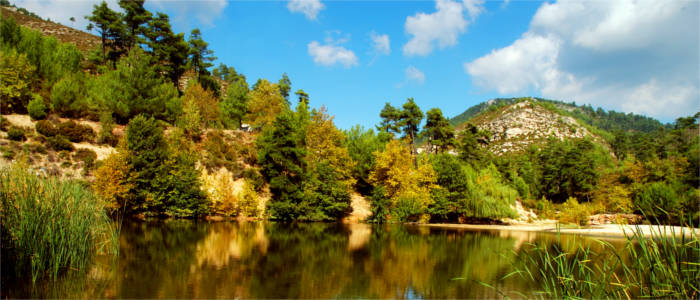 Culture - Visiting archaeological sites

It could not be clearly determined where the name "Thasos" comes from. According to Greek mythology, the island was named after the son of the Phoenician king Agenor. He settled on the island in search of his sister Europa, who had been abducted by Zeus. Thanks to its chequered history, Thasos offers a fascinating range of cultural sights. Besides the Ancient Theatre and the ancient odeon, there is a number of archaeological sites, which you can visit. Examples are the excavation site in Aliki, the Gate of Zeus and Hera, the Seilinos Gate, the Dionysion and the Hercules Sanctuary. In addition, there are several beautiful churches and monasteries such as St Nicholas Church and the Monastery of Moni Archangelou. On the Acropolis in Limenas, you still find remains of a Venetian-Genovese castle. At Metalleia Beach, travellers see twelve stone sculptures which are each engraved with the symbol of a star sign. The island is also home to a variety of museums. Interesting examples are the Archaeological Museum in Limenas, the Folklore Museum in Theologos and the Polygnotos Vagis Museum in Potamia.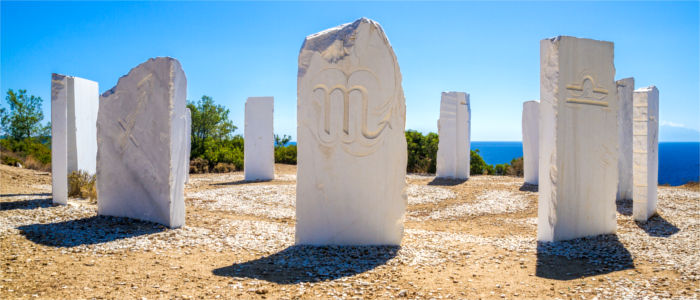 Experience - Spending cosy evenings in a tavern

The people on Thasos have managed to maintain their culture, customs and traditions. To continue doing this, they host several festivals every year, for example the folk festival on New Year's Day, the Carnival and an Easter Festival. In summer, many ancient dramas and concerts are performed in the Ancient Theatre. The nightlife on Thasos, however, is less lively. There are some bars and clubs in the capital of Limenas but people do not party very often. Visitors can buy typical products such as jewellery, textiles, sponges, leatherware and woollen blankets in many small shops. The most popular souvenirs are locally produced wines and sweets. You can enjoy the typical Greek cuisine in various restaurants and taverns. In the evening, holidaymakers get togehter with the friendly island inhabitants and have a glass of ouzo or wine.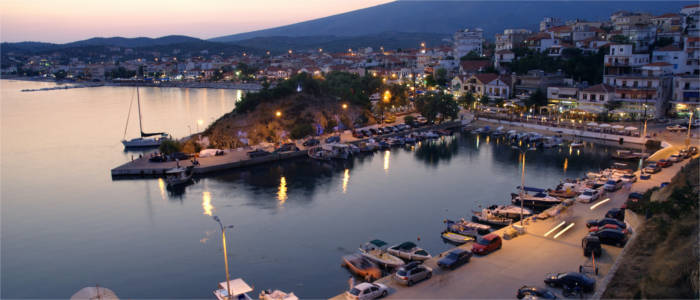 Activities - Water sports, bathing and hiking

Thasos offers many opportunities for being active. There is no room for boredom on the island. Several beaches offer water sports like water skiing, jet-skiing, banana boating, paragliding, surfing, diving and snorkelling. The beaches are generally suited for going bathing. On shore, you can go fishing, riding, cycling and mountain biking or go on a Jeep safari. In addition, the island offers excellent conditions for long hiking tours. There are several tennis courts, on which visitors can burn off energy. On the beach promenade in Limenaria, which is almost 400 metres long, you can go for a walk. Travellers should not miss out on a visit to the Drakotripa Caves in Rachoni and Panagia.
Information
There are no direct flights to Thasos but travellers can use the daily flight connections from and to Athens. From there, you can reach the island by plane. If you prefer arriving by ship, you can fly to Thessaloniki or Kavala and continue your journey by speedboat. Holidaymakers who have a lot of time can take their own car and reach the island in a car ferry from one of the harbours on the mainland.
Thasos is a small island which makes a great impression. It is ideally suited for lovers of nature and hikers but also for families who are looking for wonderful beaches to spend their holidays at the seaside.