Travelmyne Featureprint
Strong colour is better / Click icon for legend
La Gomera - The Green Gem of the Canaries
La Gomera is a paradise for hikers due to its varied and lush vegetation. The greenest island of the Canaries fascinates with harsh rock formations, impressive coasts and valleys as well as thick forests, some of which are World Natural Heritage sites.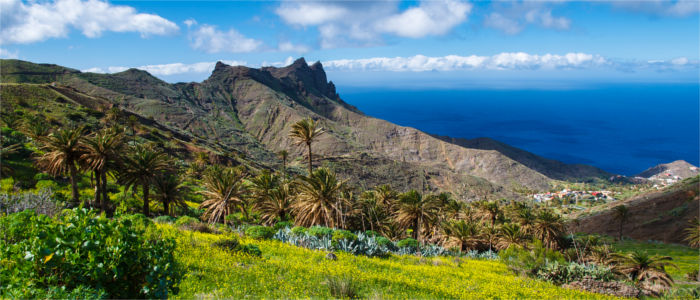 Geography - 1,486 metres above sea level

La Gomera is the second smallest Canary island. It is about 30 kilometres away from Tenerife and about 370 kilometres away from the African mainland. The green island is 1,486 metres above sea level and is divided into several gorges due to an erosion millions of years ago. As on the other Canary Islands, the temperatures on La Gomera are pleasant and spring-like throughout the year.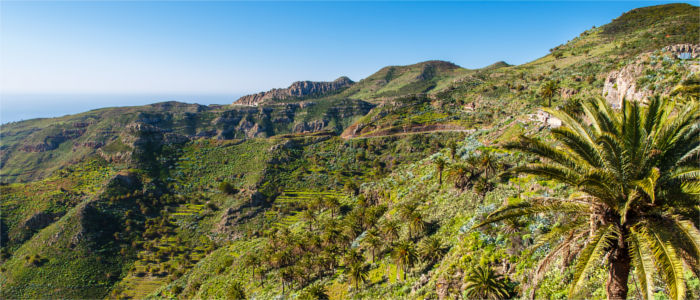 Nature - Green, greener, the greenest

La Gomera's landscape is extraordinarily varied. The island is covered in harsh mountains, coasts which are rich in vegetation, valleys, plantations and thick forests. La Gomera's flora is characterised by a number of different plants. Due to the mountain face Garajonay, the vegetation in the north differs from that in the southern part of the island. While there is a number of green, lush plants in the north, the south is dominated by succulents for the most part. The fauna is less diverse. You find many invertebrates, bats, goats, rabbits, rats, mice as well as several species of birds and reptiles on La Gomera. The Garajonay National Park, which is part of the UNESCO World Natural Heritage, is a real highlight and a must for every visitor. Thick green fog forest surrounds the island's highest and central point Pico de Garajonay. From this peak you have a great panaromic view and in good weather you can see the four Canary Islands El Hierro, Tenerife, Gran Canaria and La Palma. In addition, the national park accommodates the impressive laurel forestEl Cedro, which is definitely worth a visit. Another natural and impressive attraction is the cliff Los Organos, which is 200 metres long and 80 metres high. Its shape resembles that of organ pipes and constitutes the centre of a former volcanic crater. The surf of the sea revealed this formation in the course of millions of years and made it one of the most significant basalt columns on earth. You can best see it on a boat tour.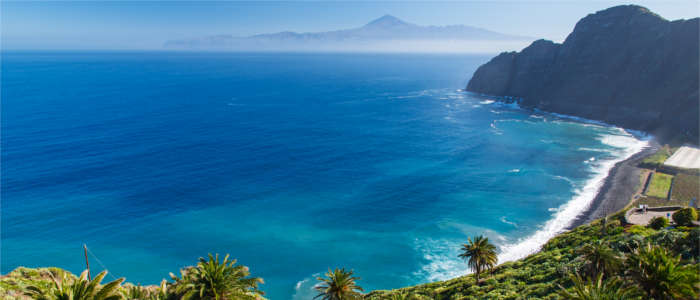 Culture - Columbus' Island

The island's inhabitants are proud of both their culture and history. Christopher Columbus, for example, stopped at La Gomera on the 12th of August in 1492 to stock up on provisions and water. Ever since, legends have been told about this historical fact. One of them is that Columbus delayed its departure because he was in love with the island ruler Beatriz de Bobadilla. It is also said that Columbus consecrated America with water from the island when he discovered the continent. This is why La Gomera is also called "Columbus' Island". You can follow the trails of the Spanish discoverer in San Sebastián's bay by visiting the Casa de Colón, the Casa de La Aguada, the church Nuestra Señora de la Asunción and the chapel of San Sebastián. A particularly special cultural treasure of the island is the whistled language Silbo Gomero, which is part of the Intangible Cultural Heritage of the UNESCO. Using this extraordinary means of communication the inhabitants of the Canaries - the Guanches - were able to communicate over valleys and gorges for centuries. This proved especially advantageous during the Spanish conquest and pirate attacks. The people who are still able to use this whistled language today are called silbadores ("pipers"). Many places on La Gomera have folklore groups who actively maintain the traditions, dances and music of former generations. La Gomera's handicraft is characterised by simplicity and nativeness. It once served to satisfy the needs of the island's population. Decoration is made from wood, baskets are woven from palm leaves and animal skins, leather or wool are also processed. A special art handicraft on La Gomera is pottery, which was already practised by the native inhabitants before they had pottery wheels. Particularly worth mentioning is the ceramic ware from Chipude and El Cercado. La Gomera hosts several art fairs every year with the Feria insular de artesanía in San Sebastián as one popular example. Other worthwhile places are Agulo, which is the island's most beautiful village with its old colonial buildings, and Hermigua with its church square, the Dominican monastery El Convento de Santo Domingo and the ethnological museum Museo Etnografico de La Gomera.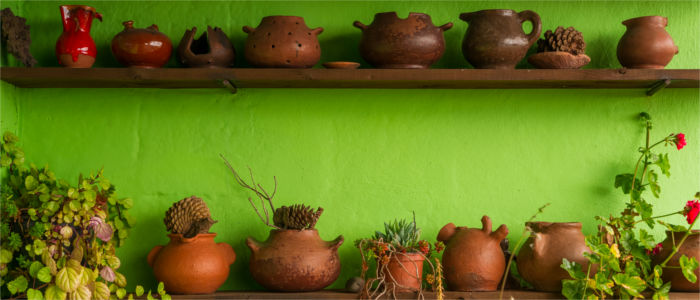 Experience - Exuberant traditional celebrations

La Gomera's inhabitants love festivities and are known for taking delight in celebrating and being exuberant. Many festivities are accompanied by ceremonies, processions and dances but athletic competitions, markets and concerts also take place during most big events. Popular celebrations are, for example, the carnival in February/March, the Fiesta de San Marcos on the 24th of April and the celebration in honour of Our Lady of Guadalupe (Nuestra Señora de Guadalupe) in October, which is probably the most important event on La Gomera. The island also offers culinary specialities. Besides fish and meat dishes, the papas arrugadas (which are common on all Canary islands) and the mojo sauce, there are several starters which are characteristic of La Gomera. One of them is the ropa vieja, a chickpea stew, or almogrote, a paste made from shredded goat cheese, tomatoes, peppers, oil and garlic. Other local products are the palm honey miel de palma, which is made of palm juice, herbal liqueur or the sparkling banana wine, which is produced on the island.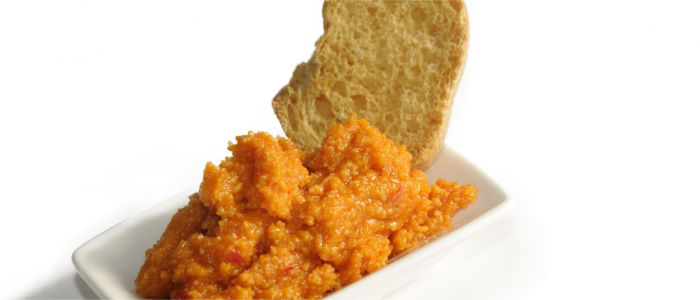 Activities - A paradise for hikers

La Gomera offers excellent conditions for hiking. The island is a true paradise for hikers and lovers of nature and offers variety to those who do not just want to lie at the beach. The Valle Gran Rey in the south or Vallehermoso and Hermigua in the north are great starting points for hiking tours. However, the island also has wonderful beaches, at which visitors can relax, sunbathe and swim. In addition, you can take part in a whale and dolphin tour on La Gomera because these animals populate the water between La Gomera and Tenerife. A different boat trip takes holidaymakers to the rock formation Los Organos, which resembles organ pipes. Almost all boat tours include a stop at a bay, where visitors can go bathing.

Information
Visitors best arrive via the neighbouring island Tenerife as there are no direct flights to La Gomera. It takes about 35 minutes to go from Tenerife to La Gomera by ferry.
Holidays on La Gomera make hikers' hearts leap for joy and are a great alternative to the typical holidays at the seaside. Although La Gomera is not a common island for bathing holidays, the Canary island has a lot to offer for beach holidaymakers.