Travelmyne Featureprint
Strong colour is better / Click icon for legend
Paros - Marble Island in the Centre of the Cyclades
Paros is an island with two faces - native and calm or modern and exciting. Spend extraordinary holidays on this island, which shines as bright as the marble existing on it. Paros offers beautiful towns, a vibrant nightlife, scenic mountain villages and a great variety of activities.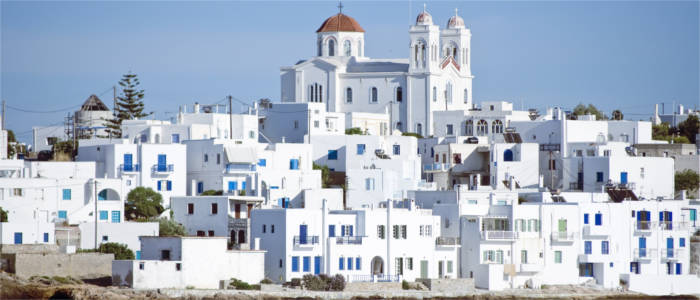 Geography - From Parikia to Aliki

Paros is a Greek island and lies in the centre of the Cyclades. It has an area of about 196.3 km² and about 13,700 inhabitants. The island is surrounded by smaller islands, which are mainly located in the north and south-west. The neighbouring island of Naxos is only seven kilometres away. Paros' capital is Parikia (also called "Paros town"). Other important destinations are Naousa, Marpissa and Aliki. The island is mostly flat to hilly with two massifs in the centre: Profitis Ilias (771 m) and the lower Stromboulas further south. Its climate is Mediterranean and influenced by the Meltemi wind, like on the other Cycladic islands. The summers can be very hot and dry, while the winters are cold and rainy.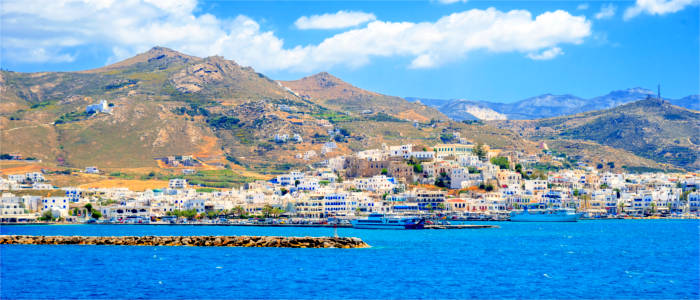 Nature - Flat land with fertile soil

Most of the soil on Paros is very fertile, so that wine, olives and fruit are grown on them. The scenery is characterised by cypresses and palms. In spring, the island transforms into a sea of red poppy and yellow marguerites (Leucanthemum). The beaches on Paros are very diverse and each has its own appeal. Whether you are looking for an open or hidden, great or small, sandy or pebble beach, you will find it here. Even in peak season you can find remote beaches. Kolymbithres Beach is best suited for families. Other beautiful beaches are the Golden Beach with its gleaming golden sand as well as Santa Maria, Piperi, Langeri, Ambelas and Logaras Beach. A true highlight is the Valley of the Butterflies, which is known across the Cyclades and is home to tens of thousand of butterflies of the Arctiinae family.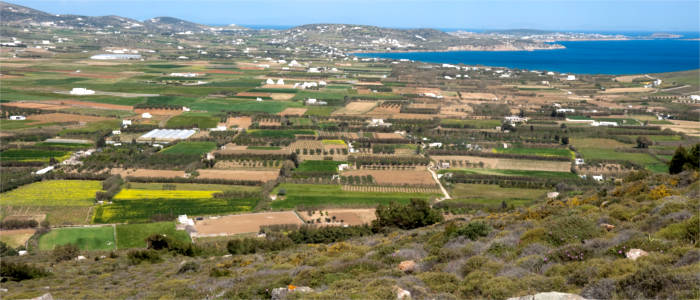 Culture - Churches, monasteries and Aristotle's School

Paros accommodates one of the most beautiful and important Greek churches, the church of Panagia Ekatontapyliani (also called "Katapoliani"). It dates back to Byzantine times and is said to have been built by the architect of the Hagia Sophia. One of its special features is the baptismal font made of white marble, which the island has been known for since ancient times. There is generally a great number of churches and monasteries on the island. Famous monasteries are Longovardia and Christou Dasous Monastery. Travellers should definitely visit the dainty fishermen's village of Naousa and the capital of Parikia. Parikia's old town is particularly worth seeing with its narrow alleys and the typically Cycladic architecture. Besides the old town, you find the remains of an old temple, which was built in honour of the god Demeter, as well as an ancient castle. In Naousa, you can visit the remains of a Venetian citadel from the 15th century. A little distance outside, you find the ancient school of Aristotle with the Nymphaeum of Mieaza. It is said that Aristotle taught Alexander the Great there. Other ancient cultural sites are the Apollo Temple and a temple dedicated to Asclepius, the god of medicine. Of course, Paros also accommodates several museums. Examples are the Folklore Art Museum, the Wine Museum, the Naoussa Byzantine Museum and the Archaeological Museum in Parikia.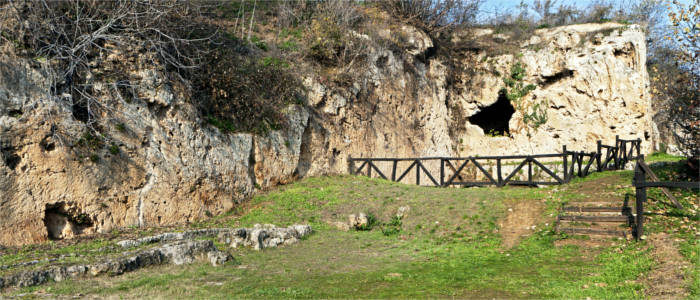 Experience - Experiencing Cycladic architecture and an intense nightlife

Paros managed to balance nativeness and modernity. While the towns have a rather cosmopolitan atmosphere, there are many native mountain villages in the centre of the island in which you feel the calm and the traditional Greek sense of life. Together with its ancient towns, monasteries, churches and wonderful beaches as well as a vibrant nightlife, the island offers everything travellers could wish for. There are many bars and clubs in Parikia and Naousa, in which you can party until the early morning hours. Popular clubs are Saloon D'Or and the Dublin Dance Club. Many holidaymakers prefer staying in the island's capital. Its many small, scenic alleys invite you to stroll and discover. They contain small shops in which you can buy anything from cheap souvenirs to expensive jewellery to antiquities. Well-known products are locally produced wine, a piece of white marble and embroidery.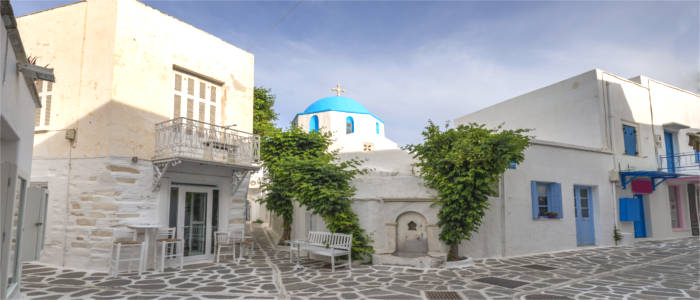 Activities - Enjoying your holidays at the beach

The Cycladic island offers excellent conditions for water sports such as windsurfing, kitesurfing, water skiing, kayaking and sailing. Between May and November is a great time for going bathing and diving in the sea. You can also go fishing in many spots along the coast. Since Paros is very flat, it is a great destination for going jogging and cycling. The mountainous regions in the heartland are excellently suited for hikes. Travellers who want to explore the island on the back of a horse can book an accompanied ride on Thanasis Farm. Thanks to its proximity to the other Cycladic islands, Paros is a great starting or stopping point for island hopping.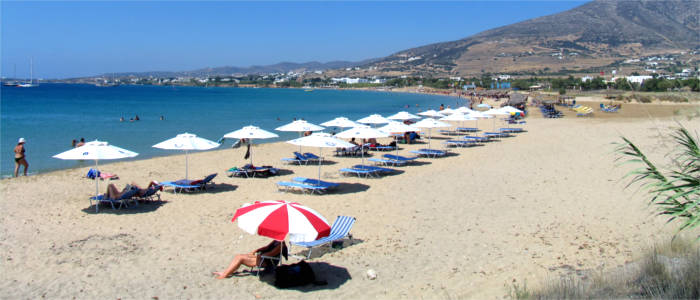 Information
There is a small airport on Paros with daily flights from and to Athens. Many international airports in Europe offer flights to Athens, which is why arriving by plane is a convenient option. You can also reach Paros by ship because the island has good ferry connections to almost all Greek harbours. The best travel time for lovers of nature is spring. The island is best suited for summer holidays from mid-June to mid-September.
There is no room for boredom on the island. If you love water sports and great beaches, you are right here. Culture enthusiasts and party-goers also get their money's worth.