Travelmyne Featureprint
Strong colour is better / Click icon for legend
Cabrera - A Mediterranean Island Rich in Nature
Cabrera is a treasure rich in nature in the Mediterranean Sea, which owes its name to a number of goats. The island is a paradise for divers, plant and animal lovers as well as for adventurers and people who are interested in history.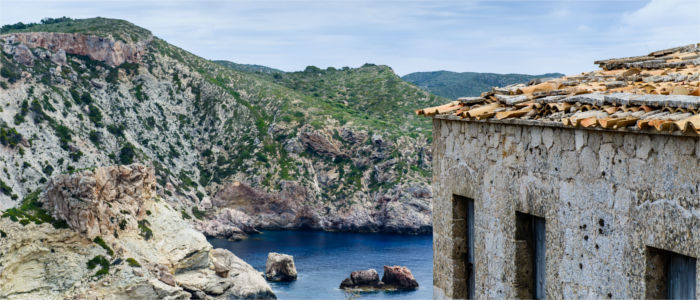 Geography - The smallest Balearic island

Cabrera is the smallest Balearic island and belongs to the administrative district of Palma de Majorca. Only 20 people live on the island which has an area of 16 km². Cabrera does not measure more than 6 kilometres, neither in length nor in width.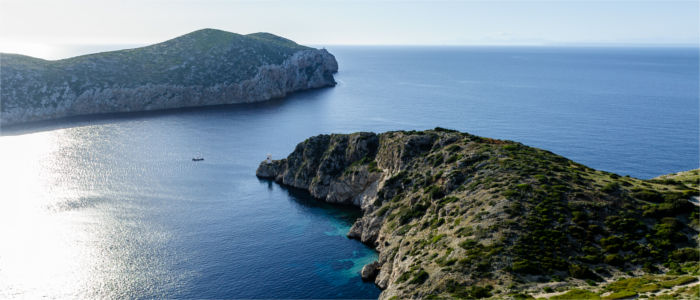 Nature - Diversity in fauna and flora

Cabrera is considered a natural and animal paradise in the Mediterranean. The island was declared a nature and bird reserve in 1991. Such rare species as the osprey, storm petrels and Audouin's gull are among the island's 150 different birds. Biodiversity is also present in the island's underwater world. Turtles, whales, dolphins and 200 types of fish populate the sea around Cabrera. The island is pure nature and only accommodates one tiny settlement, which consists of a few houses. The landscape is characterised by steep and rugged hills. Although the vegetation appears to be relatively sparse, there is a diverse flora on the island. 450 different types of plants such as oleas, junipers, pines or savins, for example, decorate the small area of land. You find numerous caps, bays and caves on Cabrera. The most famous one is the Cova Blava (blue grotto).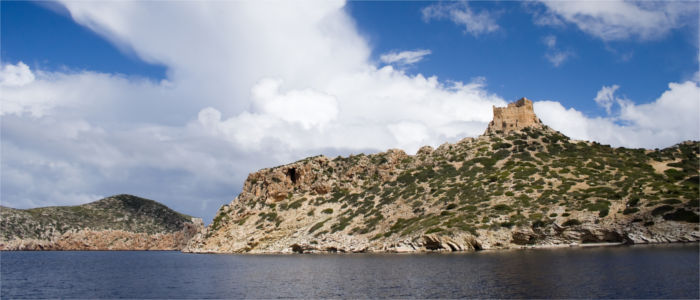 Culture - The former goat island
Due to the sea level rise, Cabrera was separated from its neighbouring island Majorca 15,000 years ago. It owes its name (meaning "goat island") to the goats which were put on the island by the Romans for sustenance in the 1st and 6th century. The four-legged animals do not populate the island any more because they literally ate away the local flora. In the Spanish war of independence (1807-1814), the island was used as a camp for French soldiers. A war memorial from 1847 is reminiscent of those times. Other worthwhile sights are the castle, the lighthouse, the sailor cemetery and a museum, which tells of Cabrera's history.

Experience - Adventure and history

There is no mass tourism on Cabrera. Most tourists are only here for a day trip and visit the island to see its diverse flora and fauna. Furthermore, Cabrera allures holidaymakers with its opportunities of adventures and its stories. Each sight tells its own stories. They are all collected in the small museum next to the castle.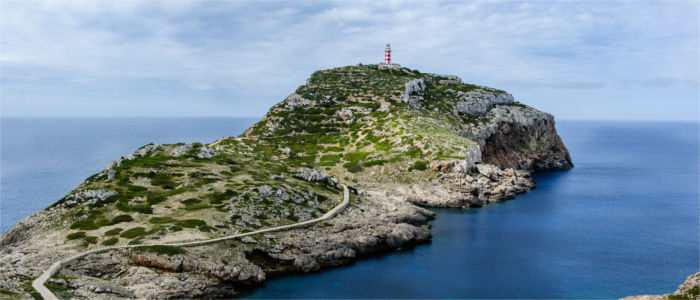 Activities - A diving paradise
Cabrera is a paradise for divers. Due to the zones in which anchoring is prohibited, the water is clear and clean and its marine flora is intact. Divers can swim with dolphins, whales or turtles. The Cova Blava can only be reached via the sea and is a popular destination for diving trips. Captains lead you along the blue grotto on a boat trip. Hikers as well as nature and animal lovers can also marvel at the island's biodiversity on a trip. In addition, you have a great view of the neighbouring island Majorca from Cabrera.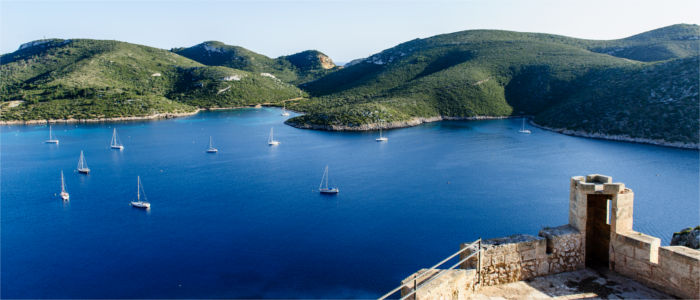 Information
You can reach the island by taking a boat from Majorca. Only a certain number of boats (50) or people (about 300 in August) are allowed to enter the island per day. Visitors who want to arrive with a private boat need a permission. There is a fixed number of points which can be visited on the island. There are strict rules of conduct, which you will hear on your crossing, to make sure that the island's nature and underwater world do not get damaged. Travellers are advised to take part in a boat tour which starts in Colónia San Jordi or in Porto Pedro on Majorca.

Visitors who want to indulge in the spirit of adventure, dive into a part of the history of the Baleriac Islands and discover an extraordinary nature should come to Cabrera. It is also a good idea to make a trip to the virtually uninhabited island if you are on holiday on Majorca.