Travelmyne Featureprint
Strong colour is better / Click icon for legend
Mecklenburg-Vorpommern - The Gateway to the Baltic Sea
Mecklenburg-Vorpommern is the "Gateway to the Baltic Sea" and a travel region which is particularly popular with families. Experience the historical cities, relax at the beach in one of the many spa resorts or be active in the sea, on one of over 2,000 lakes or on the numerous cycling trails.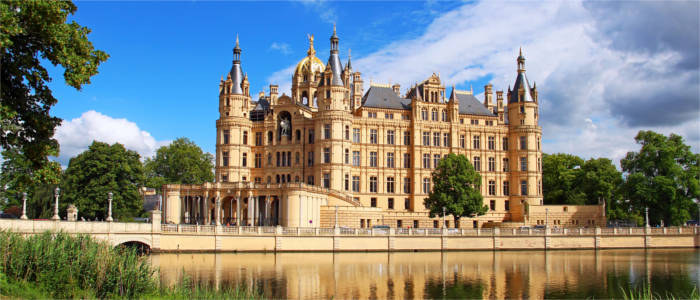 Geography - The state with the longest coast in Germany

Mecklenburg-Vorpommern (short "Meck-Pomm") is a state in the north-east of Germany. It has an area of 23,174 km² and a population of about 1.6 million people. It borders on the state of Schleswig-Holstein in the north-west, on Lower Saxony in the south-west, on Brandenburg in the south and on the country of Poland in the east. In the north, it borders on the Baltic Sea with a shoreline of about 1,900 kilometres of length. The Baltic Sea accommodates the two greatest German islands of Rügen and Usedom as well as the islands of Hiddensee, Poel and the Fischland-Darß-Zingst. The state's capital is Schwerin. Other tourist destinations are Binz, Bergen auf Rügen, Wismar, Stralsund, Ueckermünde, Neubrandenburg and Heringsdorf. Rostock is the state's only big city. The climate in Mecklenburg-Vorpommern is mostly continental to warm temperate with maritime influences along the Baltic Sea coast.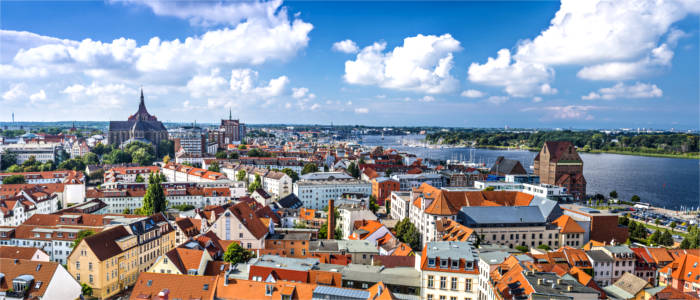 Nature - Lowlands with an abundance of water

The landscape in Mecklenburg-Vorpommern can be divided into seven landforms or regions: Mecklenburg, West Mecklenburg, Middle Mecklenburg, the Mecklenburg Lake District, Mecklenburg Switzerland, the Feldberger Seenlandschaft ("Feldberg Lake District") and Vorpommern. There are over 2,028 lakes (area of 738 km²) as well as countless rivers and canals, which cross the country with an overall length of 26,000 kilometres. So, the state has an impressive and varied network of waters. The landscape is mainly flat, as a result of the Ice Age, and belongs to the North German Plain. There are several ranges of hills with the Helpt Hills as the highest one (179 m). Mecklenburg-Vorpommern accommodates three of all the fourteen German national parks – the Jasmund National Park on Rügen, the Western Pomerania Lagoon Area National Park and the Müritz National Park.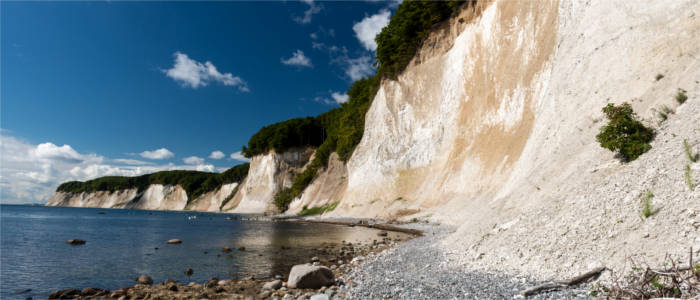 Culture - Historical old towns, wonderful castles and maritime museums

The state is a union of the former regions of Mecklenburg and Vorpommern (Western Pomerania), which was left to Germany after World War II and was a part of the former Prussian province of Pomerania. It was newly founded during the German reunification in 1990, after it had been divided into the districts of Rostock, Schwerin and Neubrandenburg in the GDR. Special highlights are the cities of Wismar and Stralsund because their historical old towns caused them to be declared UNESCO World Cultural Heritage sites. The state is generally full of historical city centres, castles, manor houses and museums which are waiting to be discovered. The most beautiful castle is without doubt Schwerin Palace. In the rural regions, you see numerous lighthouses, various observation points, testimonies of a former Slavic settlement and different monuments. Significant museums are the Museum of Cultural History and the German Maritime Museum with the Ozeaneum in Stralsund, the Otto Lilienthal Museum in Anklam, the Staatliches Museum (State Art Museum) in Schwerin and the Shipbuilding and Shipping Museum in Rostock.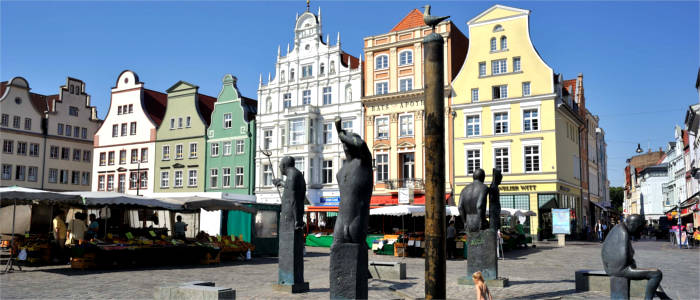 Experience - A hearty cuisine, sailing events and a great beach party

The cuisine in Mecklenburg-Vorpommern is typically north-east German, reflects the abundance of fish of the Baltic Sea and the inland waters and has a sweet and sour taste. It is simple and hearty with many game dishes and potatoes in all ways of cooking. Delicious local dishes are Pommersche Honigbutterküchlein (a pastry with honey and butter), Pommersche Quarkbollerchen (a pastry with curd), Solten Hirin (salted herring), Himmel und Erde ("heaven and earth", potatoes with dried fruit) and Tüften un Plum (potato soup with plums and bacon). Travellers should not miss out on a trip to the four Hanseatic cities of Wolgast, Demmin, Greifswald and Anklam as well as the residential towns of Güstrow, Ludwigslust and Neustrelitz. Lovers of nature will be fascinated by the breathtaking landscape on the island of Rügen with its famous chalk cliffs and the smooth hinterland. A great location for enjoying Mecklenburg-Vorpommern's beautiful green landscape is the tower (32 m) on one of the Ruhn Hills near Muggerkuhl. Since 2012, the Baltic Spring Break has been taking place on Usedom in summer. It is the greatest beach party in Germany with about 50 DJs on 3 stages. Rostock hosts the Warnemünder Woche and the Hanse Sail in summer, which attract several millions of people every year. Germany's first department store chains were opened in Mecklenburg-Vorpommern: Karstadt (1871), Kaufhof (1879) and Wertheim (1975). Holidaymakers who enjoy going shopping can definitely pursue this hobby here.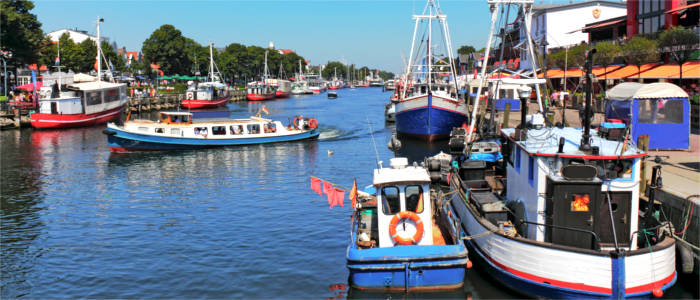 Activities - Water sports, cycling and numerous camping opportunities

There are many seaside and spa resorts in Mecklenburg-Vorpommern. The Baltic Sea is a popular summer holiday destination, especially for families with smaller children and for sailors. A popular activity is fishing but to do it you need a fishing permit and a fishing licence for every body of water. Due to its flat landscape, Mecklenburg-Vorpommern offers excellent conditions for going cycling. There are several wonderful long-distance cycling routes. The region is also suited for hikers. Popular water sports are surfing, canoeing, kayaking, dragon boating and swimming. In bad weather, travellers can visit a museum or theatre and go shopping. Rostock, Schwerin and Stralsund host beautiful Christmas markets in winter. In Wittenburg, you find an indoor snow and leisure park. In addition, Mecklenburg-Vorpommern is popular with campers because of its many camping grounds.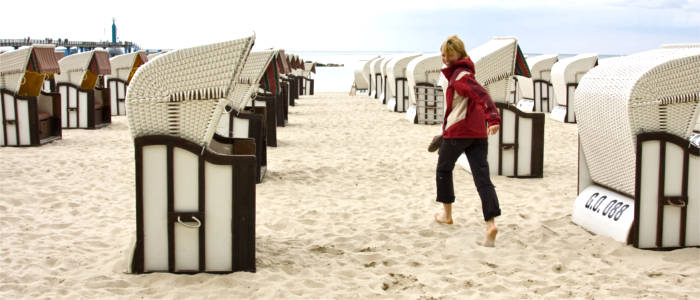 Information
Mecklenburg-Vorpommern has a regional airport south of Rostock with connections to Munich and Cologne. In addition, there are connections to and from Nuremberg in summer. If you want to travel through the state by train, you should get a Mecklenburg-Vorpommern-Ticket. Coming from the Berlin-Brandenburg region, you best get an Ostsee-Ticket ("Baltic Sea ticket"). You can also travel by ship. There are frequent ferry connections to Scandinavia, Denmark and Russia as well as good inland waterway transport on the Elbe and the Oder. Although the rail network is well-developed and even smaller towns can be reached, it is a good idea to travel the rural regions by car.
Travellers can experience relaxing holidays at the Baltic Sea or in the Mecklenburg Lake District, visit exciting museums and explore fairy-tale castles in historical cities and towns in Mecklenburg-Vorpommern. The state offers all this in addition to breathtaking landscapes.