Travelmyne Featureprint
Strong colour is better / Click icon for legend
Baltic Sea - The Family and Seaside Idyll
The Baltic Sea impresses with a great mix of bathing and leisure activities, relaxation and a wide range of family-friendly sights and attractions. The mostly untouched nature as well as the long sandy beaches and dunes make the region an appealing holiday destination.
Geography - Europe's largest inland sea

The Baltic Sea has an area of about 413,000 km², which makes it the greatest inland sea in the whole of Europe. It borders on the countries of Germany, Poland, Denmark, Russia, Estonia, Latvia, Lithuania, Sweden and Finland. In Germany, it is adjacent to the states of Schleswig-Holstein and Mecklenburg-Vorpommern. Well-known regions are the Bay of Kiel, the Bay of Mecklenburg, the Bay of Pomerania, the Szczecin Lagoon and the peninsula of Fischland-Darß-Zingst. There are numerous significant cities along the coast, for example Stralsund, Rostock, Kiel, Lübeck, Zingst, Zinnowitz and Warnemünde. The Baltic Sea lies in the temperate climate zone. While the west has a maritime character, the east is rather continental. The winters are relatively mild and the summers are warm with a pleasant cool breeze. With almost 2,000 hours of sunshine per year, the Baltic Sea is one of the sunniest regions in Germany.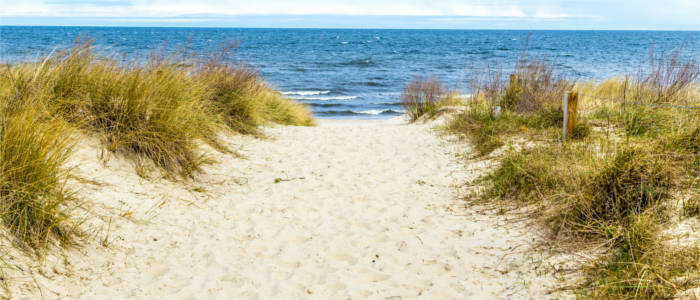 Nature - Lang sandy beaches, dunes and unique landscapes

The scenery along the Baltic Sea is characterised by long, white sandy beaches, sandy dunes which are overgrown with grass, idyllic bays, steep coasts and untouched islands. Important islands in the German-speaking area are Rügen, Hiddensee, Poel and Usedom (its eastern part belongs to Poland), which are part of Mecklenburg-Vorpommern, as well as Fehmarn, which belongs to Schleswig-Holstein. There are many protected areas such as the Jasmund National Park on Rügen with the famous chalk cliff "King's Chair" and the Western Pomerania Lagoon Area National Park, which contains a varied lagoon landscape and a diverse flora and fauna. Due to the isolation from the North Sea, the resulting lack of oxygen and its low salt content, the Baltic Sea itself is relatively poor in species. It mainly contains algae and seaweed. Its fauna is a little richer with members like fish, starfish, crustaceans, worms, molluscs and sponges. In addition, you can often watch grey seals or ringed seals at the coast.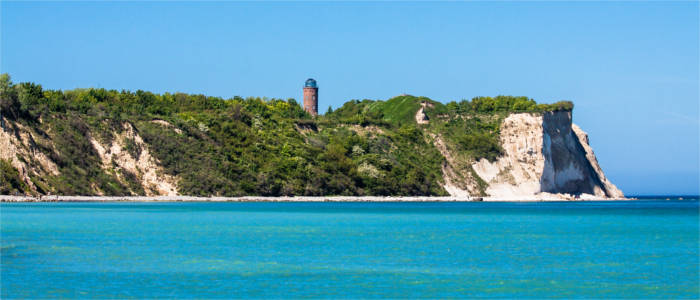 Experience - Fresh fish, healthy sea air and interesting cities

There is always a lot to see and do at the Baltic Sea. Culture enthusiasts can enjoy a variety of museums and exhibitions. The Archaeological Museum, Banana Museum and Amber Museum are highly recommended. Wonderful UNESCO Hanseatic cities such as Lübeck, Wismar and Stralsund as well as other coastal towns and seaside resorts invite travellers to stroll around and go shopping. Children will love the Dinosaurierland (a dinosaur-themed leisure park) in Rügen, Hansa Park in Sierksdorf and the Experimentarium (a science museum for children) in Zingst. Other popular attractions are the Alaris Butterfly Park, the Noctalis - World of Bats and Rostock Zoo. Holidaymakers who are looking for entertainment can visit events like the Kiel Week, the Hanse Sail or one of the many concerts, beach parties and pier festivals. The various fish dishes are a real taste adventure, no matter if you are having a fresh fish sandwich or a fried trout. The fresh sea air clears both your air passages and your head and together with the excellent spa resorts and facilities, it reconciles body, mind and soul.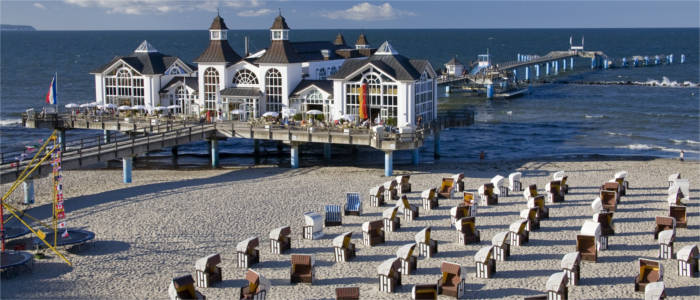 Activities - The sea calls!

The Baltic Sea is a popular travel destination with families because the beach and the sea offer young and grown-up travellers relaxed and eventful holidays. While the little ones dig in the sand and build sandcastles, the adults have the opportunity to do numerous kinds of water sports such as sailing, surfing, kitesurfing, water-skiing or jet-skiing, wakeboarding and diving. The sea invites you to go bathing and swimming - activities which offer refreshment in the warm summer months. The beach is a real treasure chest, at which you can find souvenirs like mussels, amber, adder stones, flints or fossils. Anglers get their money's worth on the many piers and breakwaters. In addition, there are many sporting and leisure activities you can do on shore. Examples are cycling, hiking, golfing, camping and horseback riding. In autumn, the region offers great conditions for flying kites, going on long walks or enjoying the sunset. If you want a bit more action, you can go summer tobogganing, karting or visit one of the countless climbing forests and parks. Many visitors enjoy the thermal baths and spa facilities in winter. Another activity which is becoming increasingly popular are cruises on the Baltic Sea with stops in Copenhagen, Stockholm, Tallinn, Riga and St. Petersburg.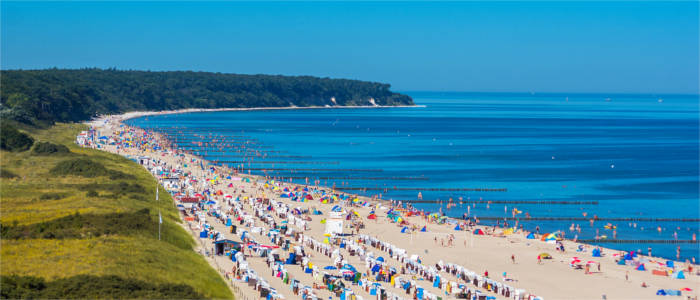 Information
Holidaymakers from abroad can arrive at the international airport in Rostock or the regional airport in Heringsdorf on Usedom. In addition, there are harbours for passenger ships in Kiel, Rostock, Travemünde and Sassnitz with connections to and from Sweden, Finland, Latvia and Denmark. Within the region or if you are already in Germany, it is a good idea to go by car. This way, you can go from place to place to get to know and explore the region. Travellers who do not want to go by car can also take the train.
The Baltic Sea is a very family-friendly travel region, which also offers a lot to lovers of nature, active holidaymakers and culture enthusiasts. Beautiful beaches, unspoiled nature as well as exciting and eventful museums and leisure activities promise memorable holidays. You breathe in healthy sea air and the region's wide range of spa facilities offers relaxation.