Travelmyne Featureprint
Strong colour is better / Click icon for legend
Iran - An Adventurous Journey into the Middle East
In recent years, more and more visitors have been coming to Iran. The country in the Middle East is a particularly popular destination for cultural and educational trips. Its landscape has a lot to offer too. Iran lies at the world's largest lake and offers adventurous desert zones and exciting volcanic craters.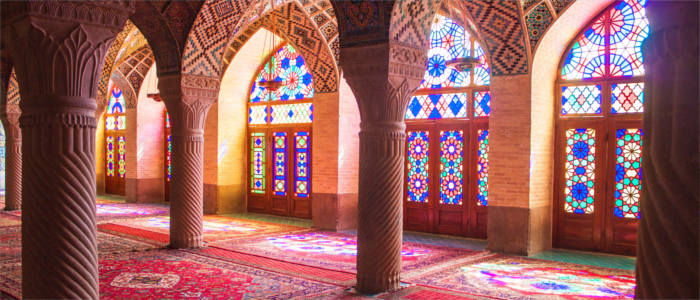 Geography - Between the gulf and the sea

The Islamic Republic of Iran borders on Iraq, Turkey, Azerbaijan and Armenia. In addition, it lies at the Caspian Sea and the Gulf of Oman. The steppe climate is influenced by other climatic conditions. In summer, it is very hot, especially at the coast. Temperatures over 35 °C are common in that season. In January, on the other hand, it can get rather cold in the mountainous regions. You also see snow and ice in Iran.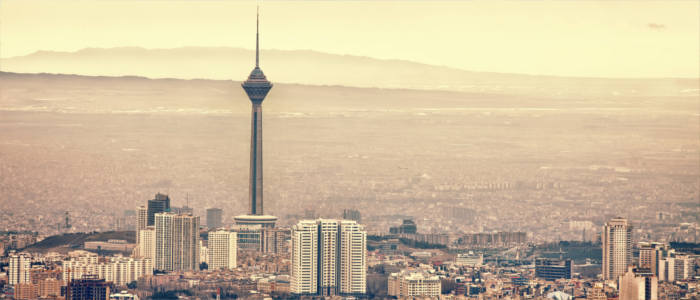 Nature - Mountains and desert

Iran is a surprisingly diverse and varied mountainous and desert country. Unfortunately, large parts of its nature and environment were damaged or destroyed during war. There are three bigger mountain ranges, including the Alborz Mountains with the highest peak. This peak is a dead volcano and called Mount Damavand (5,610 m). It is covered in snow all year. More than 50 percent of the country's area consist of deserts. It is divided into the two great desert zones Dasht-e Kavir and Dasht-e Lut. In the middle of the country, you see vast salt lakes and the the country's driest regions. The country also contains vast forests. The Oriental Beech grows particularly well here. Iran's forests are populated by lynxes, black bears and jackals and travellers can even watch leopards in Mazandaran Province.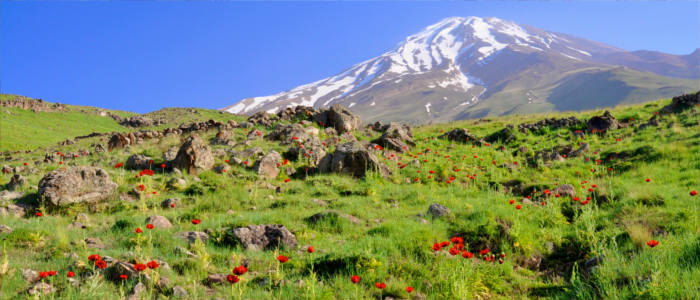 Natural sights - At the world's largest lake

Contrary to expectation, the Caspian Sea is not actually a sea but a lake. For a long time, the status of this body of water was not clear and if you stand on the bank, the lake looks really gigantic with its area of 386,400 km². Its deepest point is 1,000 metres and it even contains smaller islands. The country's heartland is considerably drier. Salt lakes are characteristic of Iran's scenery as are the harsh rocks of the ranges in the Alborz Mountains.
Culture - According to the rules of the Sharia

Iran is one of the oldest human settlement areas. Therefore, it is no wonder that it has been the site of many significant historical events. Several cultures developed here and many nations experienced their rise and fall in the country. The ruins of Persepolis bear witness to the glamour of the Old Persians and can be visited by travellers. Nowadays, everyday life in Iran is dominated by the Muslim rules of the Sharia. Holidaymakers can avoid misunderstandings by informing themselves about the population's customs and traditions beforehand. If you adhere to the strict dress code and certain rules of conduct, you will be a welcome guest in Iran.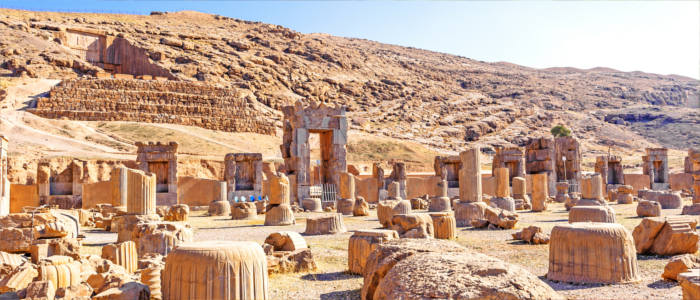 Cultural sights - The gardens and mosques in Isfahan

While most countries polish and show off their capitals, the most worthwhile city in Iran is Isfahan. Tehran is very noisy, dirty and confusingly big. Travellers who still want to explore the capital will enjoy its variety of museums. Far away from the noise in Tehran, you find the city of Isfahan which has scenic arch bridges, lovely gardens and interesting architecture. Furthermore, it accommodates the country's most beautiful mosque. Another popular destination is the artists' city of Shiraz. If you want to follow the traces of the Old Persians, you should visit Persepolis. The formerly magnificent city was built from 512 BC on but only ruins are left  of it today.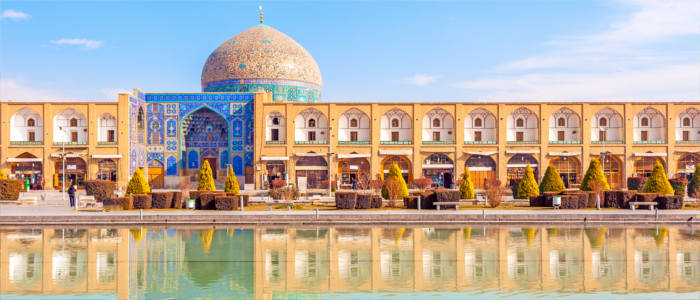 Experience - Carpet bazaars and kebab

Two kinds of kebabs, normally served on a skewer, are among the country's most common authentic dishes which are accessible to tourists. The hotels, however, mostly serve international cuisine. If you want to get to know the Iranian cuisine, you can only hope for an invitation by an Iranian family. Holidaymakers can get in touch with locals on a bazaar, for example. Iran's handwoven carpets enjoy a good reputation. A city map is highly recommended because the Grand Bazaar in Tehran takes up a gigantic area.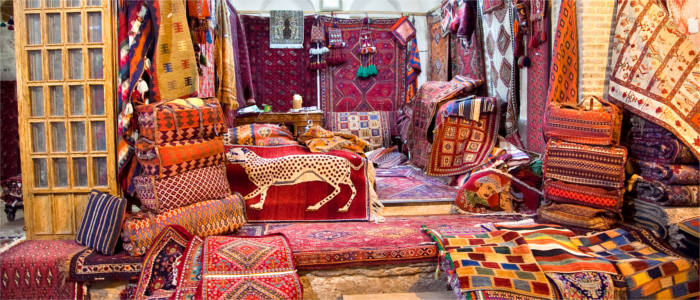 Activities - Being active in every season

Bathing tourism is extremely limited in Iran. In addition, men and women are only allowed to go bathing in separate areas. Nevertheless, there are water ski facilities on Karaj Dam (Amir Kabir Dam) and anglers can try their luck at the Caspian Sea. A great surprise are Iran's winter sports facilities. The popular winter sports resort of Shemshak is not far away from Tehran and offers a wonderful panorama for going Alpine skiing. It is also one of the most reasonably priced skiing areas on earth.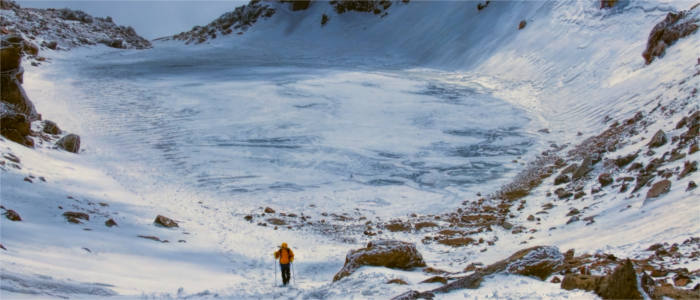 Information
The best time for travelling Iran are spring and autumn. Both seasons are pleasantly mild and neither too hot nor too cold. If you are not familiar with the rules of the Ramadan, you should take some time to read up on them before you set out on your journey. A good idea is a ride on the Trans-Iranian Railway. It crosses Iran's entire landscape from the Caspian Sea to the Persian Gulf.

Travellers do not only find an adventurous landscape in Iran but also the opportunity to dive into foreign cultures far away from prejudices and clichés.