Travelmyne Featureprint
Strong colour is better / Click icon for legend
Fraser Coast - A Sunny Holiday Paradise
The Fraser Coast Region is mainly known for Fraser Island, which is the largest sand island in the world. The World Natural Heritage site does not only fascinate with its giant sand dunes and long sandy beaches but also with its impressive fauna and flora, which guarantee a memorable holiday experience.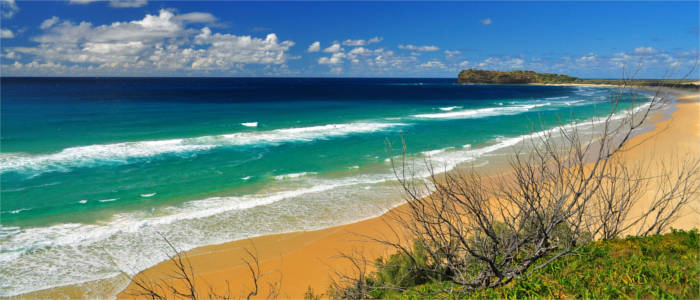 Geography - 200 kilometres north of Brisbane
Fraser Coast is a region in the Australian state of Queensland. Its area of almost 7,000 km² is populated by about 95,000 people and is approximately 200 kilometres away from Brisbane. The region's administrative seat and biggest city is Maryborough. The absolute highlight, however, is Fraser Island, which has an area of 1,840 km². It is the largest sand island on earth and has been part of the UNESCO World Natural Heritage since 1992. The weather in the region is dominated by temperate climate with warm summers and mild winters.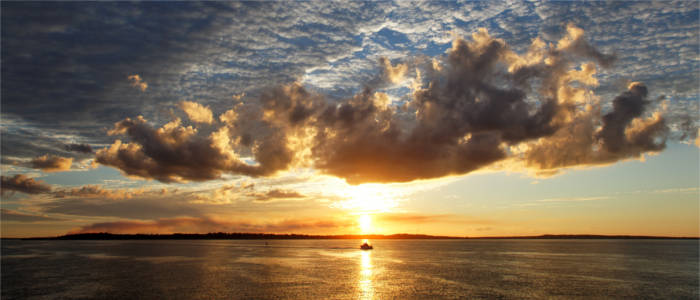 Nature - Natural beauty on Fraser Island
The main attraction of the region's landscape is without doubt the fabulous world of Fraser Island in the Great Sandy National Park. Those who think that the world's greatest sand island only consists of giant sand banks, long sandy beaches and vast dunes are wrong. The island, which is almost 15 kilometres wide and 124 kilometres long, impresses with wonderful green rainforests and mangrove forests, colourful wild flowers, sandstone formations, romantic streams and crystal clear lakes (e.g. Lake Wabby, Lake McKenzie, Lake Garawongera). Members of the region's fauna are over 350 bird species, frogs, snakes, freshwater turtles, wallabies, opossums, feral horses (brumbies) and dingoes (an Australian grey wolf). The latter are the most pedigree animals of their species, according to research from 2004. In addition, you see numerous humpback and sperm whales in the waters between Hervey Bay and Fraser Island from June to November.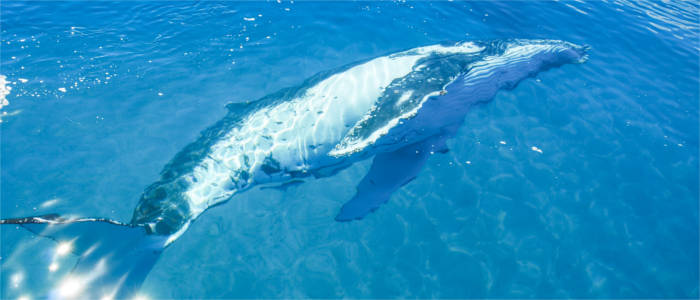 Culture - Ship accidents and charming small towns

Fraser Island was originally the settlement area of the aboriginal tribe of the Butchulla, whose members named the island "K'gari" ("paradise"). Its current name can be traced back to the ship accident of the Stirling Castle, which capsized in 1836 and left behind its captain James Fraser. Another ship accident which played a role in the island's history was the sinking of the S.S. Maheno near Eli Creek. The luxury steamer ran aground at Fraser Island during a cyclone in 1935 and was damaged by nature over time. Its rusty shipwreck, whose upper decks are the only one you can still see today, is one of the most popular sights on Fraser Island - next to the unique nature - and bears testimony to the many ship accidents in the area. The idyllic coastal city of Hervey Bay and the beautiful town of Maryborough are tourist destinations on the region's mainland. The wonderful city centre with its historical buildings, charming galleries, educational museums and the birth place of P. L. Travers, the author of the world-famous children's book "Mary Poppins", is definitely worth a visit.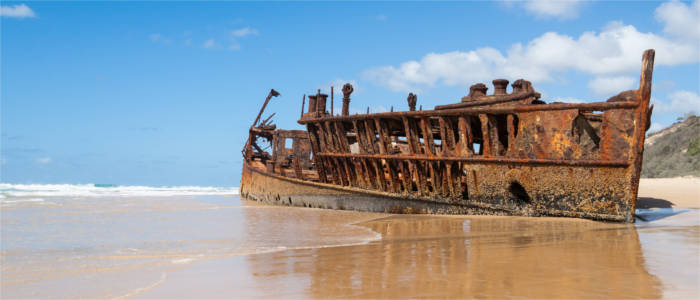 Experience - Whale watching in Hervey Bay and shopping in Maryborough
The Fraser Coast is Australia's hotspot for whale watching tours. There is hardly any other place in the world where you see as many humpback and sperm whales between June and November as in Hervey Bay. Travellers can experience the magnificent sea mammals at first hand on a  whale watching tour. The coastal city is also a great location for a romantic stroll and a good starting point for trips to Fraser Island. Fraser Coast is not only suited for relaxing and exciting natural adventures but also for going shopping and partying. Maryborough is a particularly popular destination for shopping tours and visits to the pub or a restaurant as it has many classic pubs as well as enchanting art and handicraft shops. The weekly Maryborough Markets offer a wide range of art, souvenirs and culinary products and are a great opportunity for a relaxed shopping stroll.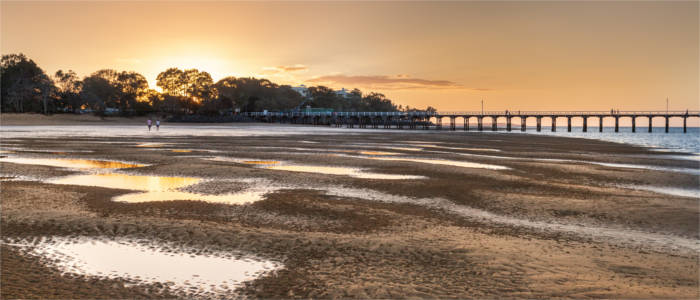 Activities - Bathing and hiking on Fraser Island
Fraser Coast and the wonderful lakes on Fraser Island offer excellent conditions for going snorkelling, diving, bathing and swimming. Other popular leisure activities on and at the water are surfing, water skiing, jet-skiing and fishing. In addition, you can go horseback riding, parasailing, camping, cycling, hiking and go on tours in a cross country vehicle at Fraser Coast and on Fraser Island. Hikers enjoy the numerous hiking trails such as the Fraser Island Great Walk, which are extra challenging due to the sandy ground.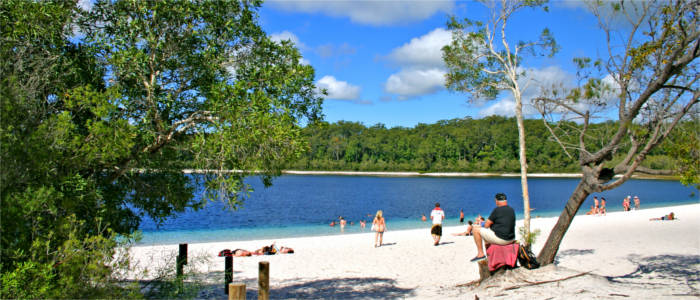 Information
Travellers best reach the Fraser Coast Region via the regional Hervey Bay Airport. The coastal city is also a great starting point for trips to Fraser Island. In addition, there are direct charter flights to Fraser Island (Orchid Beach Airport). If you spend a day at the seaside on the world's largest sand island, you should note that visitors are advised against bathing in the sea. The strong currents, deep waters and sharks can quickly turn fun in the water into a life-threatening experience.

Fraser Island and the Fraser Coast Region attract lovers of nature. The impressive landscape and the unique flora and fauna fascinate both discoverers and adventurers, while charming small towns such as Hervey Bay or Maryborough make culture enthusiasts' hearts leap for joy.