Travelmyne Featureprint
Strong colour is better / Click icon for legend
Euboea - Greece's Forgotten Rough Diamond
The Greek island of Euboea is still an insider tip. Little is known about it, which is what makes it so appealing. Individual travellers should not miss out on discovering this island's beauty and nativeness.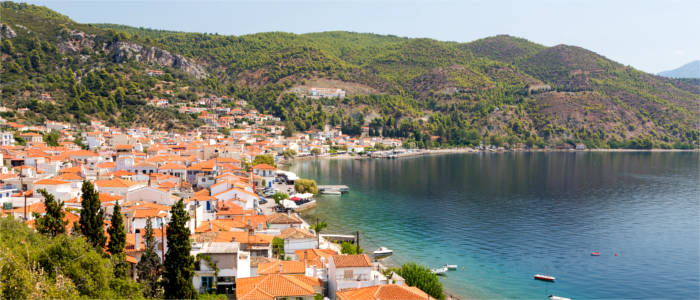 Geography - The second largest Greek island

Euboea, called "Evia" by the Greeks, has an area of 3,660 km², which makes it the second largest island in Greece after Crete, and lies east of the region of Attica. Geographically speaking, it belongs to Central Greece (also called "Continental Greece"), but regarding politics, it is part of the administrative Central Greece Region. The island is connected to the mainland via the Chalkis Bridge and is only 80 kilometres away from the capital of Athens. Euboea is about 175 kilometres long and between 6 and 45 kilometres wide. About 220,000 people live on the island. Its capital is the town of Chalkida (also called "Chalkis"). Other important places are Karystos, Kymi, Loutra Edipsou and Limni. The best time for travelling the region is between May and October. During the rest of the year, it is rarely 20 °C warm and there is a lot of rain. In summer, on the other hand, especially in July, temperatures often rise up to over 30 °C.
Nature - Natural variety from north to south

At first sight, Euboea does not seem very special. The south is barren and rough with harsh mountains and deep gorges. The flora is very sparse and mostly characterised by pricky shrubs and cactuses. The north, on the other hand, is very green. Euboea's landscape consists of fertile valleys and plateaus. It is covered in vast stone pine, pine and plane forests. In addition, you see green fields and magnificent waterfalls. The air is filled with a pleasant smell of rosemary and thyme. The island is generally very mountainous with heights of up to 1,800 metres. Its highest peaks are the mountains Dirfi (1,745 m), Pyxaria (1,341 m) and Ochi (1,394 m). The many crescent-shaped sandy and pebble beaches around the island are also worth seeing. The sea is crystal clear and has a deep blue to emerald colour. Popular beaches are Aidipsos, Istiaia and Rovies Baech in the north, Eritrea, Kalamos and Levkanti Beach in the centre and Marmari, Mesochoria and Zarakon Beach in the south.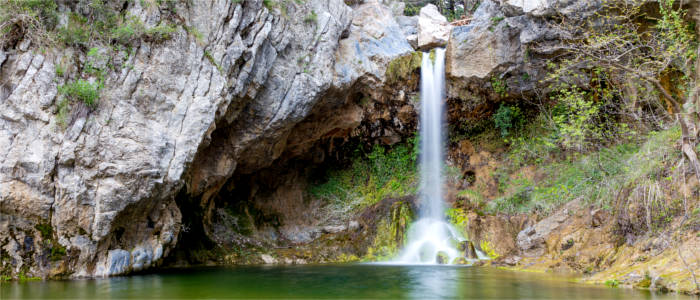 Culture - Of monasteries, thermal springs and dragon houses

The two greatest towns Chalkida and Eritrea, which were founded as Ionian settlements, are of historical significance for the island. They each accommodate an Archaeological Museum as well as a number of castles, temples and ancient theatres. In comparison to the rest of Greece, there are not many cultural sights on Euboea. In the 1970s, buildings such as the amphitheatre in Eritrea were demolished to use the materials for the construction of new houses. Nevertheless, there are several testimonies from the first settlements to the buildings from Mycenaean and classical times for culture enthusiasts to discover. Worthwhile destinations are the Drymonas Waterfall, Osios David Monastery, the church in Prokopi with the mummy of Agios Ioannis Rossos ("Saint John the Russian") and the nearby plane tree, which is several hundred years old and has a trunk circumference of 18 metres (Megalos Platanos). Other highlights are the lagoon of Kanatadaki, the marble bull of Orei and thermal springs in Loutra Edipsou. In Limni, you can visit the Convent of Galataki, which has a strict dress code (long skirts or trousers and covered shoulders). Nea Styra is home to the so-called dragon houses. They are age-old huts made of stone and the Greeks are convinced that dragons are the only creatures who could have carried the extremely heavy slabs which were used for their construction.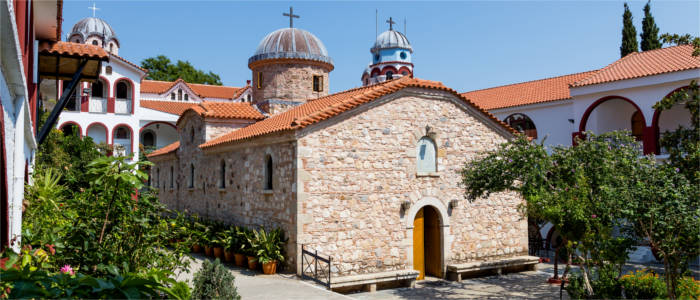 Experience - An undiscovered beauty

Far away from mass tourism and large hotel complexes, travellers find the native and authentic Greece on Euboea. Its cuisine is special too as almost every town or village has at least one speciality. Tourism is still not very common and has only been promoted for a few years. That is why the island is still an insider tip and a paradise for individual travellers. Instead of crowds of tourists, you find shepherds and village inhabitants on Euboea, especially in the mountainous regions because they are full of smaller villages. The coastal areas are characterised by smaller coastal towns and fishermen's villages. However, they also accommodate numerous hotels and camping grounds now. The capital of Chalkida is a rather modern city with many bars, clubs, restaurants, banks and shops. In the smaller places, you mainly find small shops which sell traditional products and souvenirs. There is also nightlife on Euboea but it does not compare to that on islands like Kos, Ios or Mykonos.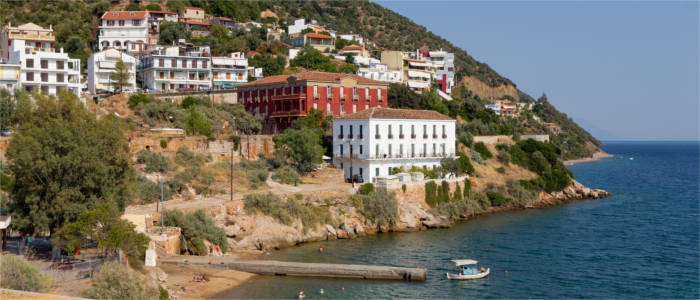 Activities - Leisure activities on shore and in the water

Travellers of Euboea should definitely go on a round trip by car. It is a great way of exploring the many traditional villages and towns. Cities like Chalkida, Kymi and Nea Styra offer a variety of water sports such as canoeing, kayaking, sailing, diving and snorkelling, swimming and surfing. In the mountainous heartland, holidaymakers find hiking and mountain biking trails. If you are looking for an adventure, you can go rock climbing or canyoning. Horse lovers will enjoy holidays on the island too, for example in the Tasso & Kris riding centre. Even in winter, Euboea has a lot to offer. There is a ski facility on Dirfi mountain, which makes the island an appealing destination at any time of the year.
Information
You easily reach the island's centre by car via the Chalkis Bridge. The island's capital is about an hour's drive away from Athens. It is also the location of the nearest airport. Travellers reach the island's north and south by taking a ship from the harbour in Rafina to Marmari. Tickets coast about 8 euros per person and 21 euros per car.
The island of Euboea is characterised by Greek nativeness far away from mass tourism. Idyllic mountain villages, scenic coastal towns and magical beaches invite holidaymakers to relax and rest. In addition, there is a wide range of leisure activities such as water and winter sports.