Travelmyne Featureprint
Strong colour is better / Click icon for legend
Graubünden - The Alps are Calling
With its numerous rivers, wonderful blue lakes and impressive conservation areas, Graubünden is the perfect travel destination for lovers of nature. Connoisseurs do not go short either because the region's cuisine is a true culinary experience. In addition, there is a lot to discover for lovers of culture.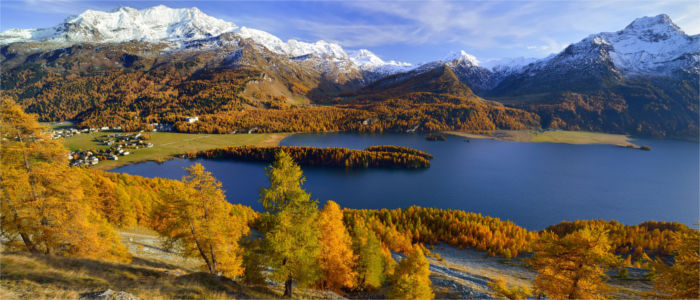 Geography - Wild land along the Alps

Graubünden is the largest Swiss canton with an area of 7,105 km² and lies in the country's south-east. Despite its size, it is rather sparsely populated with 193,920 inhabitants. This can be explained by the fact that the whole of the canton is located in the Alps. It borders on Austria and Liechtenstein in the north and on Italy in the east and south. The capital Chur is located in the north of the canton. Graubünden has 150 valleys, 615 lakes - of all the 1,500 lakes in Switzerland - as well as 937 mountain peaks with the Piz Bernina as the highest one (4,049 m). Furthermore, the canton is divided into 11 regions: Albula, Bernina, Hinterrhein, Imboden, Inn, Landquart, Maloja, Moesa, Plessur, Prättigau-Davos and Surselva. The climate is mostly temperate. The best time for travelling Graubünden is from June to August. While there are only 6 sunny hours per day on average from March to May and in September, the sun does not shine longer than 3 to 5 hours per day from October to February.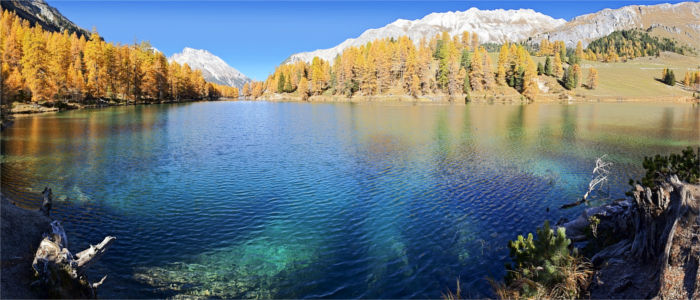 Nature - A paradise for lovers of nature

Especially lovers of nature get their money's worth in Graubünden. Over 300 species of birds live here. There are three natural parks in the south of the canton. The Swiss National Park (Rhaeto-Romance: Parc Naziunal Svizzer), which was opened in 1914, has an area of about 170 km² and has been a UNESCO biosphere reserve since 1979. It is the country's greatest conservation area. A major part of the national park lies in the subalpine zone. About a third of the area is covered in forests, 20 percent consist of the Alps and meadows and the rest does not display any vegetation. Although visitors are not allowed to walk off the paths in the national park, there is a good chance of spotting alpine ibexes, red deer, chamois and marmots. An equally fascinating attraction is the Beverin Nature Park with its four valleys, deep gorges, crystal clear mountain lakes and scenic villages. The majestic ibexes, which proudly watch over this unique wild landscape, are particularly popular with travellers. Another highlight is Switzerland's greatest natural park, the Parc Ela, which has an area of 600 km². There is a lot to discover and experience in this park because it accommodates a rich cultural heritage along the pass crossings due to its geographical position.

Culture - The Land of Castles

The best location for lovers of culture is the strip of land along the pass crossings of Parc Ela. They find medieval castles, Romanesque and Baroque churches as well as ten of the Swiss places of interest which are most worthy of protection. Graubünden is generally the canton with the highest density of castles. It is also the only Swiss canton which has three official languages: German, Rhaeto-Romance and Italian. Furthermore, Graubünden is the only canton which has Rhaeto-Romance as an official language and is called the "small Switzerland within Switzerland" because of its cultural diversity. The capital Chur is the oldest Swiss city and impresses with its car-free old town, which invites tourists to go on long shopping tours in the many boutiques. In addition, you can walk along numerous historical buildings and winding alleys. You can end your day in one of the many restaurants or bars. Interesting city tours give travellers an understanding of the way in which the Romans, Franks, Eastern Goths and Celts ruled Chur - the gate to many important trade routes and Alp crossings.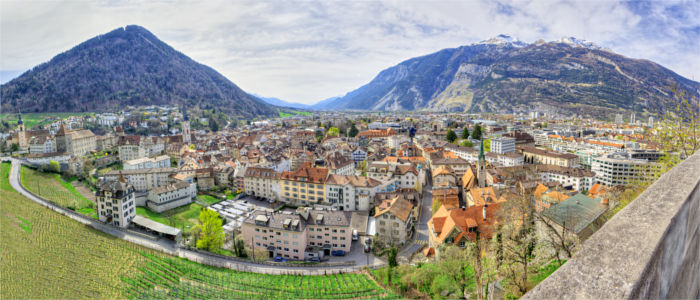 Experience - Bündnerleisch, capuns and nut pie

Graubünden's population has developed its own individual cuisine and is therefore a great destination for culinary tourists. One speciality is the famous Bündnerfleisch, a regional kind of sausage. Its name even is a registered brand. Other characteristic dishes are capuns (stuffed chard leaves), plain in pigna (potato pie), pizokel and maluns (both potato dishes), the Graubünden Nut Pie and the Graubünden barley soup. A typical drink is the Chur Röteli, a liqueur which originated in the 19th century or even earlier and is a great souvenir for friends and family.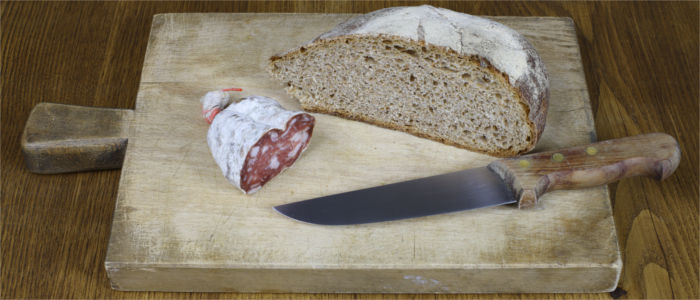 Activities - Exploring the Alps by train

Graubünden was originally a destination for summer holidaymakers but since 1865 winter tourism has been increasing as well. Especially the regions Oberengadin, Davos-Klosters, St. Moritz, Arosa, Lenzerheide and Flims are popular with travellers. In winter, you can go skiing, snowboarding and take a ride on a horse-drawn sleigh. In St. Moritz, you can use the Olympia Bob Run or play snow golf. There are about 15 golf courses in the Canton of Graubünden. Visitors should also not miss out on a hot-air balloon flight over the breathtaking valleys and mountains. In summer, you can go hiking, go climbing in the mountains or relax on the green meadows and pastures while you enjoy the deep blue of the lakes. The bath tourism in Vals, Scuol, Andeer and Alvaneu has a long tradition. Another worthwhile experience is a ride on the typical red Rhaetian Railway, which travels to all important tourist locations.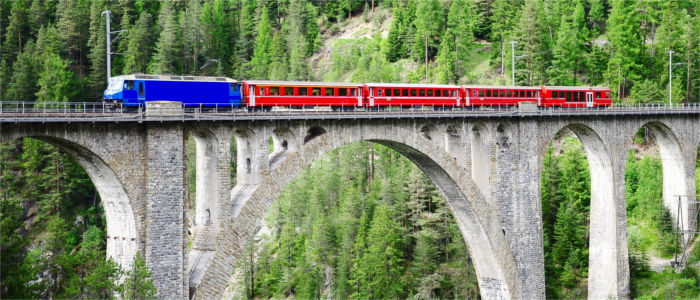 Information
Graubünden can easily be reached by car or train. Holidaymakers who want to arrive by plane can fly to Engadin (SMV) and take the car or train from there. The Rhaetian Railway is generally a great means of transport. The best travel time is either summer or winter, depending on what you want to do during your holidays. Both seasons offer a range of activities.

Graubünden does not compare to any other region in Switzerland. Its nature, culture and culinary delicacies create memorable and unique holidays, no matter if you visit the canton in summer or winter.