Travelmyne Featureprint
Strong colour is better / Click icon for legend
Lake Geneva Region - A Lake with Atmosphere and Charm
The second biggest lake in Central Europe is beautiful, runs along the Vaud Alps and is decorated with a sea of flowers in many places. While the towns at the lakeside create a special atmosphere, the majestic Alps provide the region with an impressive charm.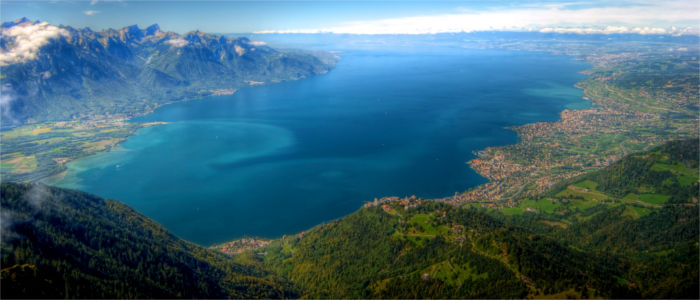 Geography - The greatest lake in Switzerland

The Lake Geneva Region is a popular destination in the outermost west of the country and one of Switzerland's greater regions. Its name was derived from Lake Geneva (French: Lac Léman), which extends over the Cantons of Bern and Vaud. However, about 40 percent of the lake belong to France and the Canton of Valais calls a small part at the eastern lakeside its own. Lake Geneva has an area of 580 km² and is divided into the three regions Haut Lac (Upper Lake), Grand Lac (Large Lake) and Petit Lac (Small Lake). It has an average depth of about 153 metres and a maximum depth of 310 metres. It is the largest lake in Switzerland and the second biggest in Central Europe after Lake Balaton in Hungary. Important towns along the lake are Lausanne, Geneva, Montreux, Nyon and Vevey. There are six small islands on Lake Geneva: Île de la Harpe, Île de Salagnon, Île de Peilz, Île de Choisi, Île Rousseau and the island which holds Chillon Castle. The climate is mild and temperate. Lake Geneva is the reason why the temperatures are milder than in other Swiss regions in winter and somewhat colder in summer. Heavy fog often occurs in autumn when the water is still warmer than the land.

Nature - A crystal clear lake surrounded by a sea of flowers

The crystal clear Lake Geneva lies in the Vaud Alps and offers an enormous variety of nature. Furthermore, there is the wonderful mountain range of the Diablerets with its glacial peaks, which create an impressive backdrop. Along the lake you find countless parks and conservation areas in which flora and fauna flourish. Travellers can spot animals like ibexes, marmots, bison, bears and wolves. A beautiful sight is offered by the many botanic gardens, which accommodate flowers such as tulips, irises and peonies.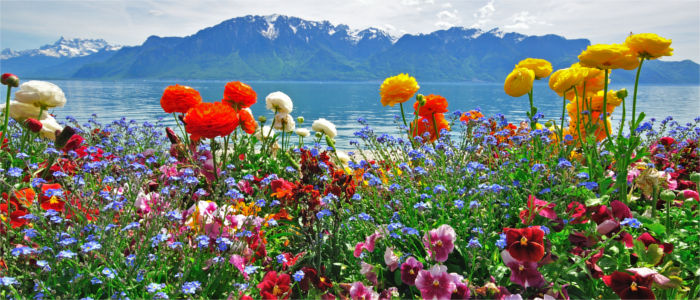 Culture - Medieval castles and historical towns

The Lake Geneva Region lies in the Suisse romande ("French Switzerland"). There are many cultural highlights around Lake Geneva, especially the fascinating medieval castles. Some of the most important examples are Chillon Castle (Château de Chillon) near Montreux, Aigle Castle (Château d'Aigle), Coppet Castle (Château de Coppet), Grandson Castle (Château de Grandson), La Sarraz Castle (Château de La Sarraz) and Morges Castle (Château de Morges). Other attractions are cities like Geneva with the Jet d'eau (a fountain at the town's gates with a height of impressive 140 metres), Lausanne and Montreux with its magical Riviera. In addition, there are many museums such as the Geneva Lake Museum in Nyon, which tells of the lake's history of origin, or the Historical Museum of Lausanne (Musée historique de Lausanne).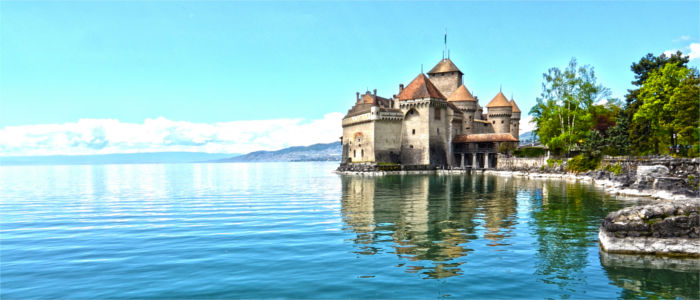 Experience - Culture and delicacies

Wine lovers find a special highlight between Vevey and Lausanne. The terraced vineyards of Lavaux are part of the UNESCO World Heritage and the place of origin of many exquisite wines, which you can enjoy with a view of the lake and the Vaud Alps. The whole Canton of Vaud celebrates the Vaud Open Wine Cellars (Caves Ouvertes Vaudoises) at Whit weekend, during which about 100 wine growers present their best products. Other delicacies along the Lake Geneva Region are fish dishes like coregonus, European perches and trouts. The region is characterised by traditional festivities but also by events of international importance. Montreux is most of all known for the Montreux Jazz Festival, which takes place in July every year. Top events such as the International Hot-Air Balloon Festival in Château d'Oex, the Tulip Festival in Morges, the Paléo Festival Nyon (a music festival) and the Lausanne Marathon are equally popular.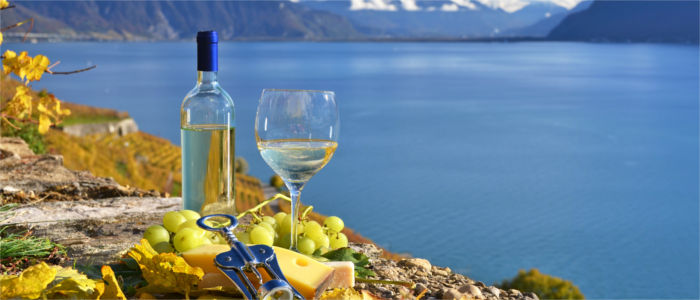 Activities - A true paradise for active travellers

The region around Lake Geneva has a lot to offer. In summer, you can do various leisure and sporting activities such as hiking, Nordic walking, climbing, mountain biking, cycling, swimming and golfing. The region offers particularly great conditions for water sports. Travellers can do adventurous sports like canyoning, rafting, windsurfing, diving and water skiing but also common activities like pedalo trips, sailing and rowing. In winter, the region is a popular destination for holidaymakers who want to go skiing, snowboarding, cross-country skiing, snowshoe hiking, tobogganing and ice skating. Those who like it more calm can relax in one of the many botanic gardens and zoos or explore Lake Geneva on a tour with one of the elegant ships of the shipping company CGN.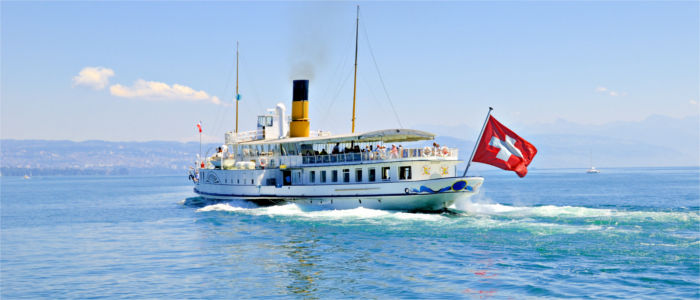 Information
Reaching Lake Geneva is easy, whether you travel by car, bus or plane. Holidaymakers who travel by plane can land at Geneva Airport (GNV) and continue their journey from there. The region offers a wide range of modern and historical hotels. The best travel time is between May and September.

The Lake Geneva Region impresses with its spectacular varied landscape, breathtaking nature and cultural diversity, which make the region an extraordinary holiday destination. No matter if you want to be active or relax - this region caters for all tastes.