What is happening in the world?
Incredible figures about the world!
The world is in constant movement and so are its inhabitants. Every second, millions of things are happening at the exact same time around the globe. However, it is incredibly hard to imagine with which amounts and dimensions we are actually dealing here. Most people are not even aware of the "achievements" humankind performs each day. May it be about the food and drinks we consume, the spending capacity for travels - cruises, safaris and flights, as well as the amounts of fish, wine and coffee we produce continuously or the oil that is extracted. Once you start looking into these information though, you won't stop being amazed by your findings.
As of now, we are providing you with some of the figures from various travel regions, which were most interesting to us, and are presenting them as a graphic overview in our new live world map. Especially those figures about tourism were the most interesting for our team.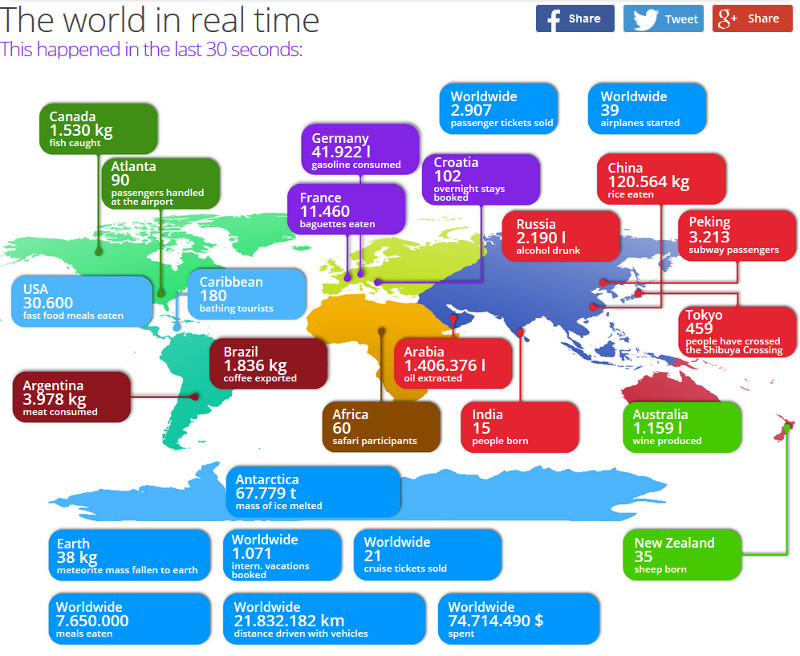 You like the new live world map? Then why don't you share it with your friends and family by clicking the Share button for Facebook, Twitter and Google+. If you have any suggestions or questions, please feel free to contact us at any time, by leaving a comment below or sending us an e-mail.