Travelmyne Featureprint
Strong colour is better / Click icon for legend
Goa - Dream Beaches with Portuguese Atmosphere
Goa contains wonderful sandy beaches with hip beach bars close to exotic rainforests, which impress with a rare flora and fauna. Goa is not typical of India. Shaped by the long Portuguese colonial rule, it is a fascinating mix of cultures.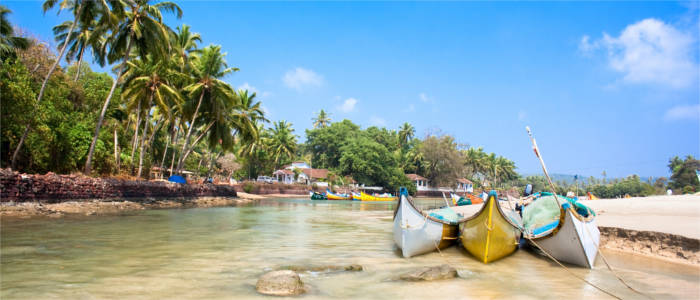 Geography - India's smallest state

With an area of 3,702 km², Goa is the smallest state in India. It lies at the central west coast (Konkan Coast) at the Arabian Sea and borders on the states of Maharashtra and Karnataka in the east. Besides the capital of Panaji, Anjuna, Canacona, Calangute, Candolim and Mandrem are popular travel destinations. The climate is hot humid with a short dry season from November to March. June to October is the time of the monsoon season. The average yearly temperature is 27.4 °C.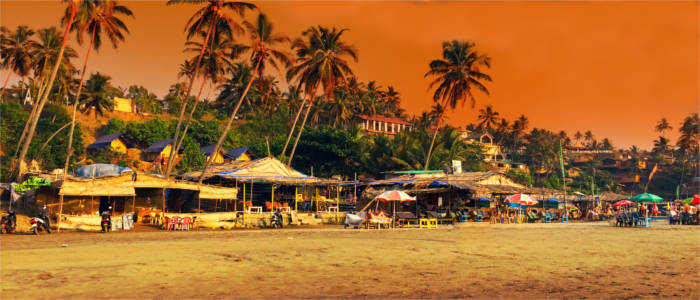 Nature - Tropical rainforests and wonderful beaches

Goa's scenery is characterised by a long coast (about 101 km) with beautiful sandy beaches. Popular bathing beaches are those in Calangute, Colva, Arambol, Mandrem, Benaulim, Baga and Palolem. These beaches are connected to terraced elevations, which transition into the foothills of the Westghats as tablelands, which are 30 to 100 metres high. The Westghats are a mountain range which contains the highest peak in Goa, the Sonsogor with a height of 1,167 metres. Due to the many wide rivers, many of which have their source in the Westghats, the shoreline is divided into many river deltas. In the mountains, especially at a height of 500 metres and higher, you find an impressive flora and fauna. Goa still contains vast areas of undamaged rainforests and jungles. These are mainly vegetated by fig, shala and teak trees as well as magnolias. Bamboo and giant ferns form a thick undergrowth, which also contains lianas and beautiful orchids. In addition, you find mangroves, cashew trees, coconut palms and vast rice fields. Members of the region's unique fauna are gaurs (Indian bison), striped hyenas, golden jackals, common kingfisher, common mynas, sambars (deer), muntjacs and the rare Indian leopard. The small peninsula of Chorao accommodates the Salim Ali Bird Sanctuary. At the border of Karnataka, you find the Bhagwan Mahawir Wildlife Sanctuary. A real highlight are the Dudhsagar Falls, which translate as "sea of milk".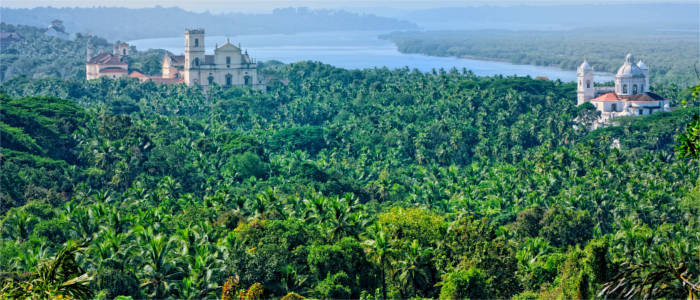 Culture - Time travel through Portuguese colonial times

Due to the 450 years of colonial rule by the Portuguese, Goa's culture shows European influences to the present day. Another group which left a mark were the hippies, who made Goa India's party paradise in the 1960s and 70s. The Goa trance music originated here. Goa's higher tolerance threshold and greater freedom are apparent from various aspects. Cows (India's scared animals) can be slaughtered here, for example, and their meat can be sold, alcohol is more freely available and less expensive and the women wear clothes which look Latin American instead of saris. In addition, the proportion of Christians is much higher than in the rest of India. The Portuguese have created a rich cultural heritage in the form of sacred buildings. The most significant ones are the churches and monasteries in Old Goa (Velha Goa). This city is part of the UNESCO World Cultural Heritage. Besides sacred buildings, you see many typical manor houses from colonial times all over Goa. The Basílica Bom Jesus, Se Cathedral, the Church of Our Lady of Immaculate Conception and Fort Aguada are definitely worth seeing. St. Cajetan's Church was modelled on St. Peter's Basilica in Rome. Visitors will see less Hindu temples. Most of them are located in rural marginal regions. Well-known examples are Manguesi Temple (Shri Mangeshi Temple) and Shanta Durga Temple. Interesting museums are the Goa State Museum and the Goa Chitra Museum.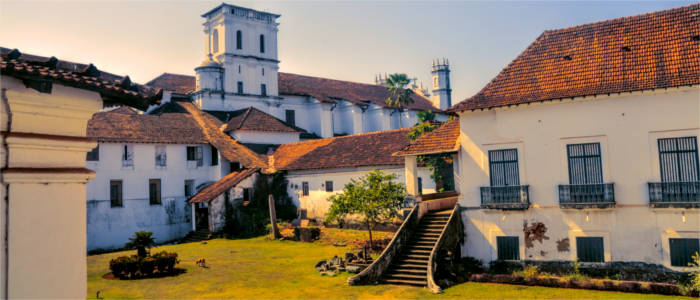 Experience - Tasting traditional dishes with fine spices

There are numerous markets in Goa on which you can buy all kinds of things from clothes to tea and spices to art handicraft. Travellers should know that people expect you to haggle in India. Therefore, it is not surprising that the sellers' original prices are somewhat higher. One very popular souvenir are the locally grown cashew nuts. The cuisine is mainly Indian but with Portuguese influences. The dishes mostly consist of fish, coconut milk, rice and spices. Popular local dishes are tandoori chicken and vindaloo, for example. Goa is not only a great destination for going shopping and enjoying food but also for going out. At the end of February or the beginning of March, many people come to Panaji to take part in the carnival with wild music and parades. Another popular Hindu event is the Ganesh Chaturthi. You should watch the beautiful sunset from the beach in the evening. Goa trance parties under the open sky are not allowed any more because of the noise but there are several discos and numerous hip beach bars in which you can party all night. Holidaymakers who enjoy gambling can visit the Deltin Royale.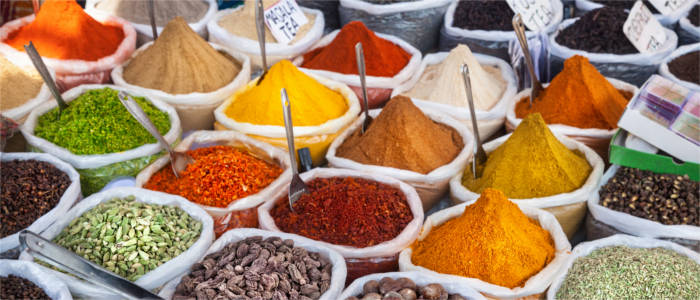 Activities - A water sports paradise

Travellers find tranquillity and relaxation at Goa's beaches or action and adventure. You can do many water sports here, including river rafting, windsurfing, scuba diving, water skiing, sailing, fishing, parasailing and swimming. Families will enjoy the Splashdown Water Park. Holidaymakers who are looking for a rush of adrenaline should visit the Go Karting Track in Verna. A day trip through the state is another enjoyable experience. You can do it by car, motorcycle or bike. Visit a spice plantation, impressive Hindu temple complexes or travel back to the time of the Portuguese colonial rule.
Information
Most people arrive at Goa via Mumbai. From there, they go to the airport in Dabolim near Vasco da Gama. However, there are direct flights from several bigger cities in Europe, which are less stressful. Once you have arrived at the airport, you best take a taxi to your desired destination. The official language in Goa is Kokani but you get along well using English or Portuguese.
A trip to Goa is an exciting adventure. The region offers endless sandy beaches, thick jungles and rainforests as well as impressive architecture, which reflect the unique mix of cultures. Besides numerous water sports opportunities, you can go shopping here or party and thanks to the varied spices, your taste buds will benefit from this adventure as well.