Travelmyne Featureprint
Strong colour is better / Click icon for legend
Indonesia - The Country of a Thousand Myths
Mystical temple complexes in the middle of a mysterious volcanic landscape make Indonesia a great adventure for backpackers and all travellers who want to experience something new and exciting. The deep jungle, wild animals and bubbling peaks are waiting to be discovered.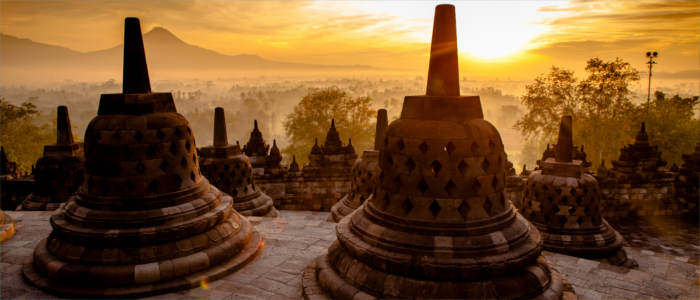 Geography - The largest island state in South East Asia

According to a satellite count, the Indonesian archipelago comprises over 17,500 islands, which makes it the largest island country on earth. The island chain lies along the equator and consists of the Greater and Lesser Sunda Islands, the Maluku Islands and Western New Guinea. About 6,000 islands are populated with most people living on the main islands of Java, Borneo, Sumatra and Sulawesi. Indonesia is adjacent to Singapore, Palau and the Philippines in the north, Papua New Guinea and East Timor in the east as well as Australia in the south. The country is divided into 34 provinces, five of which have a special status. There is constant tropical climate with 25 °C to 27 °C on average. Humidity is over 95 percent and it is very stuffy. The monsoon winds create a dry climate from June to September and a lot of rain between December and March.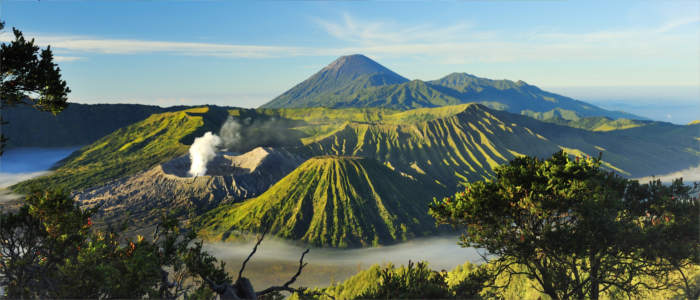 Nature - An extraordinary tropical paradise

The vast island archipelago offers a variety of landscapes. About a third of its area is covered in thick jungle and crossed by deep mangrove swamps. You also find vast mountainous and lowland rainforests as well as untouched jungles. Indonesia accommodates the greatest rainforest area on earth, which is home to orang-utans and macaques. The world's greatest lizard - the Komodo dragon - also feels comfortable in the humid regions. This primeval-looking creature can be up to three metres long and weighs 30 kilograms. Another record holder is the reticulated python, which can reach a length of nine metres. Indonesia is a biodiversity hotspot. Over 3,000 types of fish, rays, sharks, dolphins and tortoises enjoy the blue water in front of the islands' beaches. In addition, Indonesia is a volcanic country. It accommodates a great number of volcanoes which are still active and keep the islands' inhabitants in suspense. Mount Merapi is one of the most active volcanoes on earth. The highest volcano, however, is Kerinci in Sumatra with a proud height of 3,805 metres. The islands are generally very hilly and are crossed by a mountain range of 1,800 kilometres of length. Its highest peak is Puncak Jaya (4,884 m). Where agriculture is possible, rice is grown on vast terraces. Crater lakes, sandalwood forests, white dream beaches, harsh rocky cliffs and scenic waterfalls complete Indonesia's scenery.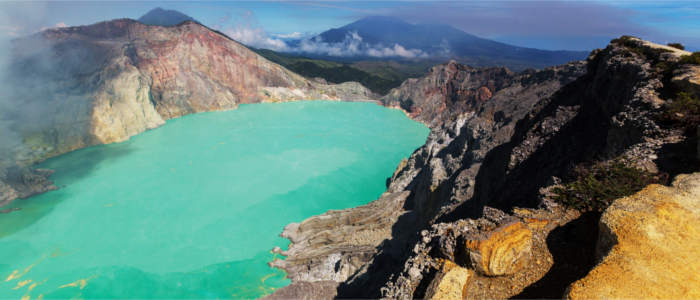 Natural sights - The realm of 1,000 islands

Indonesia counts several natural sites, which are part of the UNESCO World Heritage. Travellers can go hiking and enjoy the landscape in the National Park on Komodo Island. Lorentz National Park and Ujung Kulon National park with the infamous volcano Krakatau are also worth a visit. One of the most beautiful volcanoes is Mount Batur (Gunung Batur) on Bali. The turquoise crater lake of Batur astonishes visitors. Lombok Island is often called "Bali's little sister". It is not as overcrowded and fascinates with wonderful sandy beaches and Mount Rinjani (3,726 m). Mount Agung (Gunung Agung) is a great location for advanced climbers and mountaineers. It is also a good idea to book a mountain guide in this wild and stunning region. Divers should visit Raja Ampat. They can marvel at 450 colourful species of corals in front of its beaches. It is generally worth one's while to explore the archipelago by boat or on a cruiser. After all, Indonesia is called the "realm of 1,000 islands", which is a strong understatement as the country actually counts over 17,000 islands.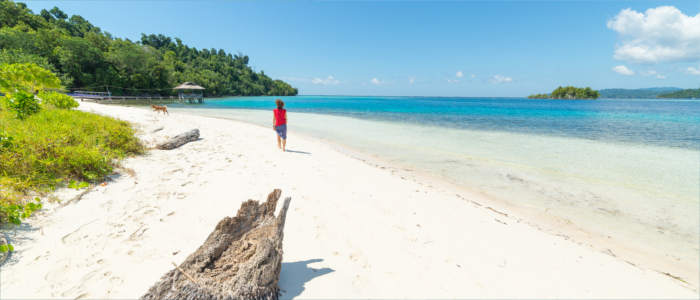 Culture - Preserving traditions, adding new features

Java is the country's political and economic centre. Over 58 percent, i.e. 140 million people, of the population live here. Indonesia is one of the most densely populated countries on earth with a colourful mix of cultures and world views as well as over 250 different spoken languages. The modern age and old traditions go hand in hand here. While mighty buildings and skyscrapers are built in big cities like Jakarta, people live a spiritual life in the temples and the rural regions. Making contact to natural spirits is as normal as studying the stock prices. Another special Indonesian attraction is the last remaining Sultanate Yogyakarta. The golden palace and the proximity to the Hindu sanctuary of Prambanan make the region an interesting tourist destination. Many of the islands have developed their very own culture and traditions and have preserved them to the present day.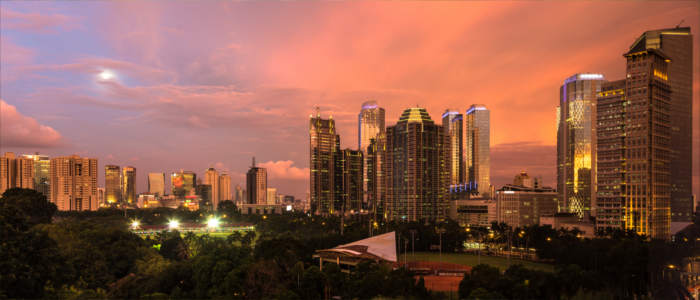 Cultural sights - The island of 1,000 temples

Bali is the most important destination for most tourists and that is not surprising. The attractive island is often referred to as the "Island of 1,000 temples", which is another understatement because it has been estimated that Bali accommodates no less than 200,000 temple complexes. One of the most beautiful examples is Tanah Lot, which is located on a small island in front of Bali, which you can reach on foot at low tide. However, the best-known temples are the giant Prambanan near Yogyakarta on Java and Borobudur, which was built in the 8th and 9th century. Both of these complexes are World Cultural Heritage sites. Of course, holidaymakers should not miss out on Indonesia's capital Jakarta. Over ten million inhabitants make the metropolis a colourful and lively place. The business and shopping district is called Blok M and invites visitors to a long shopping tour. The gigantic Jakarta Tower protrudes into the sky and offers a particularly impressive sight when it is illuminated at night.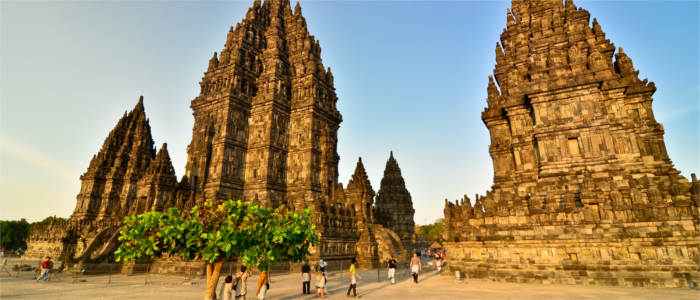 Experience - Culinary delicacies from the Far East

The Indonesian cuisine is similar to Chinese cooking with rice as the basic food. However, Indonesia has also created its own delicious dishes, which are also suited for western stomachs. You get freshly caught fish on every island, which is prepared in different ways depending on the island's tradition. Holidaymakers should also try fresh exotic fruit such as mango, papaya and rambutan. One of the best-known dishes is nasi goreng, fried rice with vegetables. Another delicacy is sate, meat (usually chicken) on a skewer with a spicy peanut sauce. Tourists can go shopping in the big city. The district of Blok M in Jakarta accommodates countless shops for strolling. Classic handicraft can also be found on the smaller islands. Popular souvenirs are handicraft objects made by the Sasak people or colourful shirts and scarves with the characteristic batik pattern. Indonesia's nightlife takes place both in the beach bars at the seaside and in the big city. You can spend delicious and traditional evenings in the beach restaurants in Jimbaran on Bali or have wild and exciting nights in the capital. In addition, Seminyak on Bali has developed its own party scene.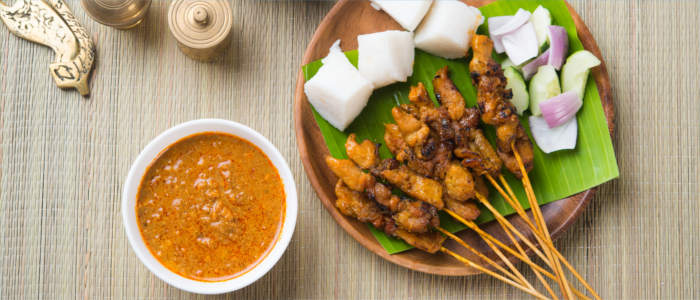 Activities - A country of 1,000 possibilities

The long sandy beaches on Java, wonderful bays on Bali and beautiful sandy dunes on the Gili Islands attract numerous sun-worshippers and bathers every year. Bali is one of the most popular surfing areas in addition to Sumatra's west coast. Divers can go on trips to the islands' most beautiful reefs. A special attraction is the Bunaken Underwater National Park. Of course, you can also be active on shore. Trekking in the jungle in Sumatra, volcano ascents which take several days and whitewater rafting on the Alas River or the Ayung River make adventurers' hearts leap for joy. A more relaxing experience is a ride on a horse-drawn cart over the Gili Islands.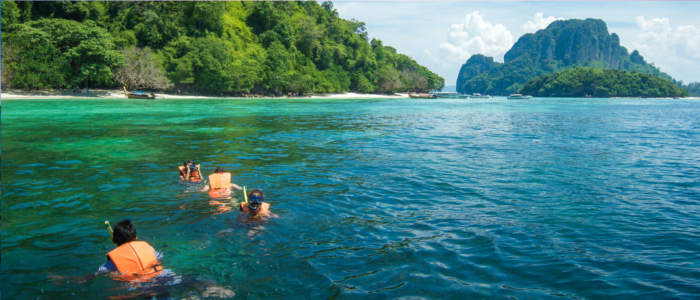 Information
The most interesting Indonesian tourist destinations are Bali, Jaca, Sumatra and Komodo. These islands are well-developed. Most holidaymakers arrive between April and October, when it does not rain as much. Indonesia is particularly well-frequented in August. Travellers should not forget to check their vaccination record when they plan their journey.

Backpackers and adventurers already discovered the stunning archipelago centuries ago. Nowadays more and more culture enthusiasts and active holidaymakers are drawn to Indonesia's mysterious islands.