Travelmyne Featureprint
Strong colour is better / Click icon for legend
Elba - The Natural Pearl in the Tyrrhenian Sea
The Tuscan island of Elba is known for its unspoiled Mediterranean nature with wonderful bays, white sandy beaches and turquoise blue water. Although it is most popular with lovers of nature and water sports fans, it also offers a number of sights for culture and history enthusiasts.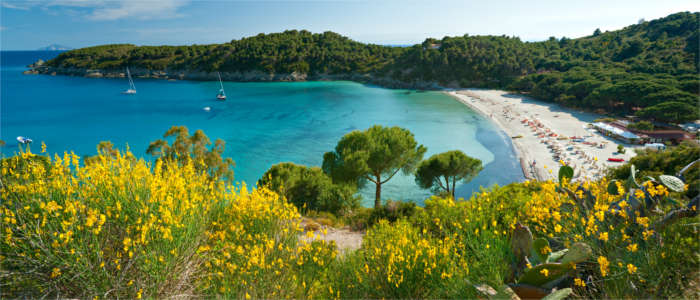 Geography - Italy's third biggest island
Elba is an island at the Mediterranean Sea in the Italian province of Livorno (Tuscany). With an area of about 224 km² and a shoreline of 147 kilometres of length, it is the largest island of the Tuscan Archipelago and the third biggest in the country. The island's highest peak is Monte Capanne (1,019 m), which is located in the western part of the island and offers a wonderful view. Elba has a population of almost 32,000 people, who live in eight different communities. The Mediterranean climate creates temperate winters and hot summer months, which are slightly moderated by the ocean breeze.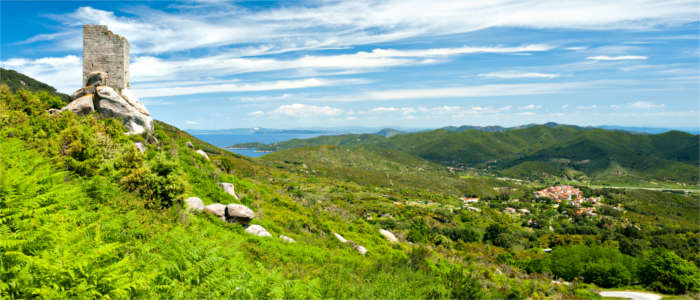 Nature - Rocky coast and Mediterranean vegetation
The island's landscape is vegetated by Mediterranean sclerophyllous plants. Genista, myrtle, heather, oleander, arbutus, violets, cornflowers, thyme and rosemary grow in the island's centre, while the coast is characterised by many small bays and wild rocks. Between these you see beautiful white sandy beaches. Elba's nature is populated by local bird species such as seagulls, peregrine falcons, feral pigeons and puffinus. There is also a lot to discover under water. Divers can spot shiny schools of fish, spiny lobsters, morays and octopus on their exploration of Elba's underwater world. Like great parts of the island's surface and the Arcipelago Toscano National Park, Europe's greatest sea park, Elba's underwater world is protected.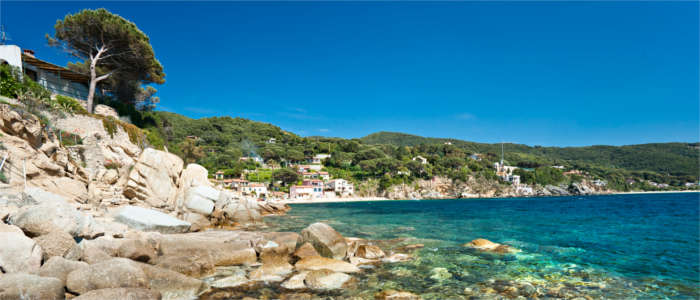 Culture - The medieval fortresses of the Medici family

Elba has been a strategic point in the Mediterranean Sea in the course of history, which many tribes fought over. The Ilvates, Etruscans, Greek, Romans, Ostrogoths, Byzantines and Langobards settled on the small island, among others. To defend themselves, Elba's inhabitants built several fortifications, watchtowers and fortresses, some of which you can still visit today. In Portoferraio, which is the island's centre and principal town, you see the medieval fortifications of Fortezza Linguella, Forte del Falcone and Forte Stella. The latter towers 49 metres above the town, next to a lighthouse. The star-shaped fortress constitutes an important part of the island's Medici fortresses. Other attractions on the island are Portoferraio's harbour (Porto Azzuro, the most important harbour on Elba), the numerous churches and chapels (former cultic sites), the Villa die Mulini (Napoleon's former residence) and the mountain village of Capoliveri with its winding alleys, colourful houses and charming squares.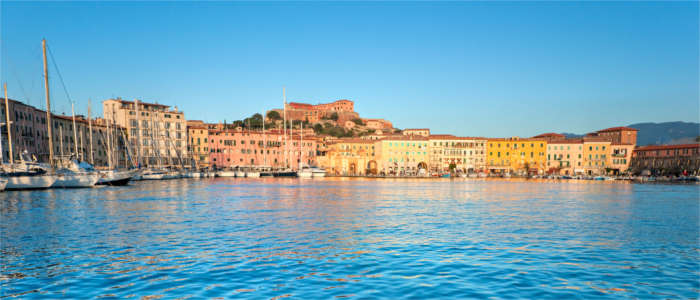 Experience - Local weekly markets and fish soup from Elba
Several towns on Elba host weekly markets (e.g. Portoferraio, Marina di Campo), on which you can buy local handicraft and food. In addition, you can purchase local products and souvenirs in the alleys in the mountain villages or on the promenades in the coastal towns. The island's cuisine is shaped by the Tuscan one. Restaurants prepare simple meals with fresh, local ingredients. Almost all dishes are served with olive oil and bread and you find fish and seafood on every menu. One special and popular dish from the province is the fish stew cacciucco, which is made of fish, crabs and mussels.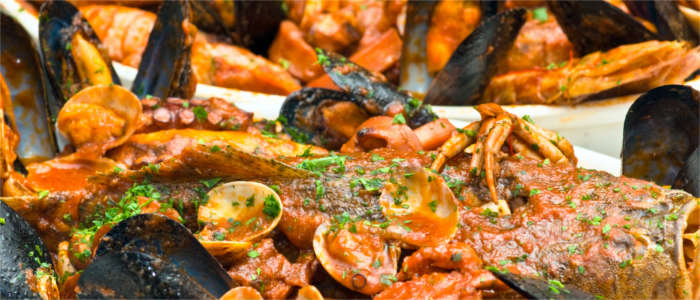 Activities - Diving in the Arcipelago Toscano National Park

Elba is a true paradise for water sports fans, especially for divers. There are several diving centres on the island, for example in Portoferraio, Rio Marina, Marciana and Campo nell'Elba. Sailors, surfers, kayakers, canoeists and anglers also get their money's worth on holiday on the Mediterranean island. Leisure activities on shore are hiking, horseback riding and cycling, which are great ways of exploring Elba's untouched landscape. A popular day trip destination is the peak of Monte Capanne, which you can reach on foot, by bike or on the back of a horse.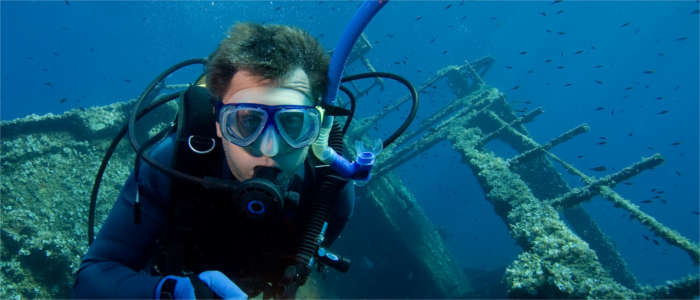 Information
Travellers best arrive on Elba by ferry from Piombino or Tuscany. The ferry services Toremar and Moby Lines travel to the island several times per day. The crossing takes about one hour. It may happen that the ferries to Elba are already fully booked in the summer months, which is why it is better if you book in advance.
Divers find a colourful and fascinating underwater world on Elba, which is waiting to be explored. Outside of the water, the untouched nature of the Arcipelago Toscano National Park invites hikers to an expedition, while medieval fortresses take culture enthusiasts back in time.